Watch how Corvette Racing's new collision-avoidance radar system works
Fri, 22 Mar 2013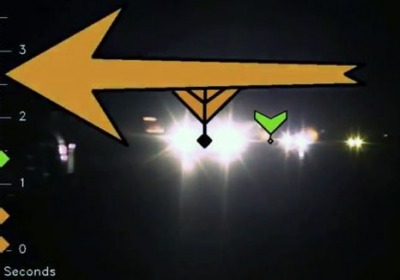 When it comes to technology used in racecars, we generally expect it to trickle down to production cars, not the other way around. Well, Pratt & Miller has developed a new rear-facing radar that operates in a similar fashion to what we're used to in modern blind spot detection systems, only it is also capable of tracking cars as they approach and relaying vital information to the driver via a large display screen.

The innovative radar system debuted at last weekend's 12 Hours of Sebring for Corvette Racing, and this system makes perfect sense for endurance races like this since the cars sometimes have to drive through the night and in poor weather conditions.

The radar can detect cars even with poor visibility, and uses easy-to-distinguish symbols for the driver to identify.

"The system uses a rear-facing radar sensor to track up to 32 objects, and runs on a custom-built Linux PC with a Core i3 CPU," said Chris Hammond, Embedded Systems Engineer for Pratt & Miller. "With a momentary glance the driver knows how many cars are following, how far back each one is, their closing speeds, and whether or not they are probably a faster class."

Displayed in the image above, the radar can detect cars even with poor visibility, and uses easy-to-distinguish symbols for the driver to identify. The solid green marker indicates a car has been detected at a safe distance, while the yellow marker shows a car that is even closer; the line through this symbol means that the car is approaching at a higher rate of speed, which could indicate a faster class of car such as when a Prototype passes a GT car in the American Le Mans Series. The symbols turn red when the car is very close, and a large arrow flashes to either side when the car is being overtaken. There is also a line graph at the side of the screen to give an estimate of how many seconds back the cars are.


Currently, Hammond says that Pratt & Miller is the only company to have a system like this used for racing, and it plans on selling the technology to other teams in the future – although a price has not been set.

There are a couple videos posted below showing the system in action. The first one is a shot purely from the radar (so it has no audio) but shows a detailed look at how it all works. The second video is a point-of-view shot from Corvette Racing's Tommy Milner, and it shows how the driver uses the system in real time.




---
By Jeffrey N. Ross
---
See also: Chevy Sonic shreds like a skateboard, Race Recap: 2013 Twelve Hours of Sebring, cakewalk up front, grindfest out back [w/spoilers], Corvette Stingray Shooting Brake under consideration by Callaway [w/poll].