Chevy Sonic shreds like a skateboard
Tue, 19 Mar 2013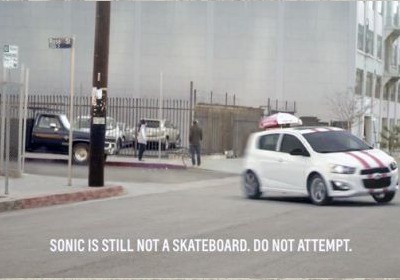 Despite the fact that the 2013 Chevy Sonic is a fun, plucky little thing – especially in ever-so-slightly hotter RS guise – it is not, in fact, a skateboard. But don't tell that to rapper Theophilus London.

In General Motors' latest spot for the Chevrolet compact, London needs to make a quick run to the store for some milk. And even though, once again, the Sonic is not a skateboard, it ollies, pops and gets air because, you know, it's just so much fun to throw around.

If this video looks familiar to you, it's because this is the full ad that we first got a preview of in Chevy's longer, full-line spot, where the brand's "Find New Roads" tagline was introduced. Scroll down to see this dedicated Sonic spot, along with the older ad, and remember, the Sonic is still – still – not a skateboard.





---
By Steven J. Ewing
---
See also: Race Recap: 2013 Twelve Hours of Sebring, cakewalk up front, grindfest out back [w/spoilers], Corvette Stingray Shooting Brake under consideration by Callaway [w/poll], Check out the official 2013 Trans Am Hurst Edition commercial.