Race Recap: 2013 Twelve Hours of Sebring, cakewalk up front, grindfest out back [w/spoilers]
Tue, 19 Mar 2013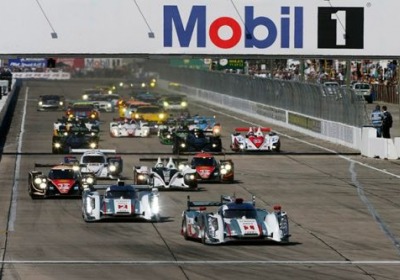 This year's 12 Hours of Sebring wasn't exactly a foregone conclusion because we're still talking about racing, and anything can happen when the speeds are as high as the adrenaline and the desire. But we're still talking about Audi bringing it's two top-spec racers – and its huge budget and its nearly neurotic attention to detail – to a race that it uses as a test bed for The 24 Hours of Le Mans and as a way to open the endurance racing season with a victory.

Besides, 12 hours is a long time, especially at Sebring, and things didn't go all Audi's way. On top of that, although it was a pretty quiet race, behind the Audis things got even grimier, with plenty of battles, plenty of mechanical issues, and the new BMW Z4 GTE and Viper GTS-R being race tested. Oh, and that brand new chromed-out DeltaWing...

At the front of the pack, the Audi R8 E-Tron Quattros silently drove away with the trophy – and in truth, they did so before the race even began. Audi has lined up at Sebring 14 times, won eleven of them, started from pole position in ten of them and finished 1-2 in eight of them. When the No. 1 and No. 2 Audis qualified nearly four seconds ahead of the rest of the LMP1/LMP2 field, optimistic conversationalists opined "Well, it's racing so you just never know...". When the race started and the Audis began putting almost four seconds per lap over the competition, so that by lap ten they were 35 seconds ahead of the third-placed car and had already started putting the GT challengers a lap down, people tried to add to that, "Well, if they break..." – but really you just wondered if there should be a skunk rule in racing.

There isn't, and although one of the Audi's did break a little, it wasn't enough to throw off a team skilled in rebuilding an entire car in minutes. The No. 1 Audi, a 2012-spec R18 E-Tron Quattro, qualified on pole position and finished the race first, driven by Marcel Fässler, Benoit Tréluyer and Oliver Jarvis. For Jarvis it was the second time he's been able to celebrate an American endurance victory this year: he also drove the winning R8 Grand-Am at the Rolex 24 at Daytona, while the other two drivers are the current Le Mans champions and World Endurance Championship title holders. The No.1 Audi suffered damage to its floor when it ran over some debris, but the situation was fixed during a caution period. There were 20 lead changes between it and the No.2 Audi, a 2013-spec R18 E-Tron Quattro driven by Lucas di Grassi, Tom Kristensen and Allan McNish, that qualified in the second spot and finished in the same place just 7.679 seconds behind the winners. Their only in-race issue had been a 60-second time penalty during the second hour of the race due to a run-in with another prototype.

There were 40 other cars in the race, and they began crossing the line classified five laps down on the winning Audis. The third-placed No. 12 Rebellion Racing Lola-Toyota driven by Nicolas Prost, Nick Heidfeld and Neel Jani had battled with the No. 6 Muscle Milk Racing HPD-ARX, that latter car a victim of one incident including a wheel that came off while on track, a nose change late in the race necessitated by a rear-end collision with another car coming into a corner and resulting time penalties.


In the GT class (above), the No. 4 Corvette C6.R driven by Oliver Gavin, Tommy Milner and Richard Westbrook duked it out with the Ferrari 458 Italia driven by Gianmaria Bruni, Olivier Beretta and Matteo Malucelli, the BMW Z4 GTE and SRT Viper GT-RS and Porsche GT3 RSR. All of them led the race, but it was the Corvette that took the class win after battling the Ferrari for a fair portion of the race, the Ferrari in second and the Porsche driven by Wolf Henzler, Bryan Sellers and Nick Tandy a lap down. The Viper was a contender in its first outing, but a catalog of mechanical issues kept it from making a sustained challenge.

In LMP2, the No. 551 Level 5 Motorsports HPD-ARX driven by Scott Tucker, Marino Frachitti and Ryan Briscoe claimed sixth overall and the class win, one lap in front of the No. 552 fellow team car that suffered handling issues throughout the middle of the race. It was the fourth class win in a row for Level 5 Motorsports. The Prototype Challenge class is a spec series of Oreca chassis and engines, David Cheng, Mike Guasch and David Ostella claiming the crown and ninth overall. The GTC class, another spec series of Porsche 911 GT3 Cup cars, was taken by Cooper MacNeil, Jeroen Bleekemolen and Dion von Moltke.

As for Don Panoz's DeltaWing project, things haven't got off to a good start for the chrome missile: back in the pits only 12 minutes into the race, where it stayed for a while, it was sent back out but only got 10 more laps completed before billowing smoke and pulling over for good just into the third hour of the race.

Finally, for a taste of what the Sebring track is like, we got to do a couple of hot laps in our Audi A8L TDI – check out how much wheel travel there is on in a rather large, rather (comparatively) cushy luxury car and you can imagine, painfully, how tough it must be in a race car. The other video is a cellphone footage of the last pit stop for the winning Audi. We'll see it again in America in September at the World Endurance Challenge at the Circuit of the Americas.
---
By Jonathon Ramsey
---
See also: Corvette Stingray Shooting Brake under consideration by Callaway [w/poll], Recap: 2013 Australian Formula One Grand Prix is all about the rubber [w/spoilers], Check out the official 2013 Trans Am Hurst Edition commercial.