UK workers strand car on island of asphalt to keep working
Wed, 06 Feb 2013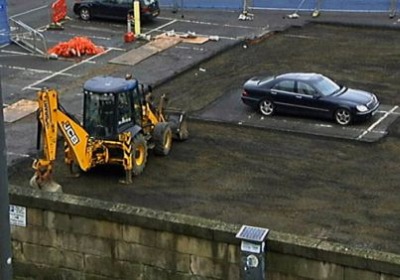 Generally speaking, when you illegally park your car, you're likely to get ticketed and towed, but there is probably at least one motorist in Scotland who wishes that was the case. After workers had blocked off a portion of the parking lot for the Edinburgh Waverley railway station, the driver of this Mercedes-Benz S-Class reportedly moved some of the barriers to park in one of the empty spots.

Rather than having the vehicle towed, the work crew simply tore up the asphalt around the leaving just the one parking spot intact, and as you can see in the image above (posted to the Twitter account of Harold Norstad), the crew even built a small asphalt ramp so the car could get off its blacktop pedestal. Since this happened last week, there's no word as to whether the car was eventually moved or towed for the resurfacing work to continue.

Let this be a warning...
---
By Jeffrey N. Ross
---
See also: Mercedes-Petronas AMG W04 launched to little fanfare, lots of pressure [w/video], New details emerge on forthcoming Mercedes-Benz SLC, Consumer Reports selling its road-tested roadsters [w/video].