Consumer Reports selling its road-tested roadsters [w/video]
Thu, 31 Jan 2013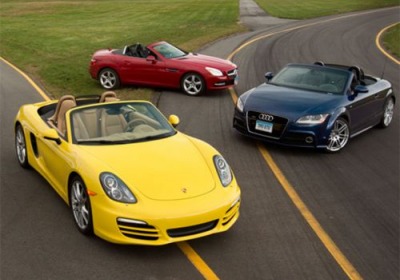 Here's a chance to acquire a celebrity-owned vehicles, and this time at a discount instead of a premium. So the celebrity in this case is Consumer Reports, that magazine that could be equally adored and abhored by car enthusiasts. CR buys all of its test vehicles and usually finds willing second owners within its own ranks, but its opening its small used-car lot to the public. On the forecourt are four roadsters: an automatic 2012 Audi TT 2.0 TFSI Quattro S-Tronic with 6,600 miles for $36,500, a manual 2012 BMW Z4 sDrive28i with 8,400 miles for $45,000, a manual 2012 Mercedes-Benz SLK250 for $39,500 and a manual 2013 Porsche Boxster with 7,000 miles for $48,000.

Those numbers mean a savings of $9,000 to $10,000 before haggling – each car is listed with an "Asking price" so there could be some wiggle room if you show up with pockets full of dough and eyes full of serious intent. Since the money CR earns from the sales go back into the magazine's budget to buy more test cars, however, it probably won't take any oddball trades, so you can forget about getting any purchasing help from that track-day AMC Javelin project on blocks in the back yard.


The vehicles have been taken care of and spiffed up for sale; buyers will take delivery at the CR test track in East Haddam, Connecticut and get a tour of the facilities. While you're there they'll even take you on a lap around the track so you can feel how your car handles when driven by one of its testers. They will probably not help you with advice on which toaster and dehumidifier to buy – you'll still need to get a subscription for that. Have a look at the video below to see a day in the life of a CR test car.


---
By Jonathon Ramsey
---
See also: Audi prices 2014 A8L TDI from $82,500*, YouTube's Super Bowl commercial buzz list dominated by automakers [w/videos], YouTube's Super Bowl commercial buzz list dominated by automakers [w/videos].