Toyota's Euro Aygo spied in prototype form
Thu, 22 Aug 2013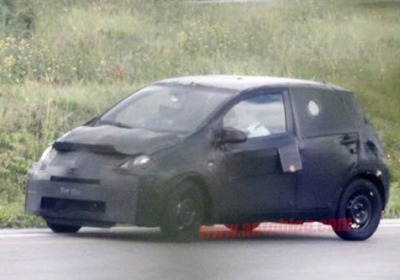 The five-door version of the next-generation Toyota Aygo, a Euro offering cloned by the Peugeot 107 and Citroën C1, has been caught out on the town wearing all black. Facelifted early last year, predictions are that the next version of the city car will be slightly lower and wider than the current car, with improved ergonomics and materials. Based on what little can be seen for now, a new intake and headlight treatment should be on the menu in front, with taillights placed higher on its backside.


A three-door version is expected, but a gasoline-hybrid model is also rumored, along with power and fuel economy improvements to the three-cylinder engine that presently puts out 67 horsepower and 69 pound-feet of torque.

We should see it next year, along with the new Citroën C1 and Peugeot 108.
---
By Jonathon Ramsey
---
See also: Toyota 86 most likely to get more power through more displacement? [w/poll], Toyota discontinuing FJ Cruiser after 2014 model year, Toyota nudges US sales projections up to 2.25M.