New Bright creating exclusive 1:8 scale radio-controlled C7 Corvette
Mon, 04 Feb 2013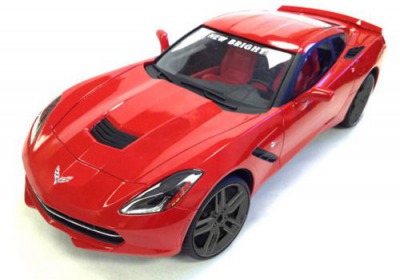 If you want a new 2014 Chevrolet Corvette but can't quite save up enough pennies for the monthly payment, we have good news for you. Toymaker New Bright has pulled the covers off of its 1:8 scale remote-controlled version of the American sports car. Complete with a very detailed interior and LED headlights, this large-scale R/C is as close as most of us will ever come to having one of the menacing Chevrolet models to call our very own. New Bright still hasn't released pricing or availability, but word has it the coupe should hit the market soon.


Right now, it appears as if the C7 will hit shelves in Torch Red, though we don't know if other colors are planned as well. The good news is that New Bright isn't exactly turning its back on the old C6 – representatives say the company will continue to make its popular C6R racecar for those who prefer round taillights.
---
By Zach Bowman
---
See also: GM recalls 8,500 Chevrolet Malibu models for rear suspension glitch, Joe Flacco wins C7 Corvette along with MVP honors, Steve McQueen's last movie car, now Pawn Stars-owned, up for auction [w/video].