Joe Flacco wins C7 Corvette along with MVP honors
Mon, 04 Feb 2013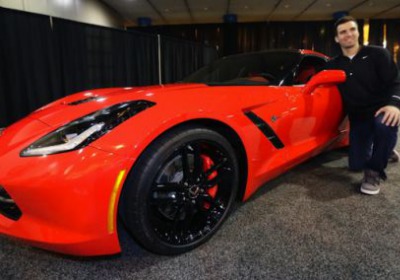 As part of a longstanding tradition, the MVP of Super Bowl XLVII, Joe Flacco, quarterback for the Baltimore Ravens, was given a new car directly after the game and trophy celebrations. For 2013, that car is a 2014 Chevrolet Corvette Stingray, and it was presented to Flacco by Rick Flick of Banner Chevrolet, a dealership in New Orleans that was wiped out by Hurricane Katrina in 2005 before returning to prominence as the only Chevy dealer in Orleans Parish.

Last year, Super Bowl MVP Eli Manning took home a 2012 Corvette GS Centennial Edition. Manning also won in 2008, when he selected a Cadillac Escalade Hybrid as his reward. In 2011, quarterback Aaron Rodgers accepted the keys to a Camaro convertible.

Though we're most definitely an auto-obsessed group, we did watch the Big Game along with nearly everyone else in America. And we've gotta say, as if

winning the Super Bowl and receiving the Tiffany-designed Pete Rozelle Trophy wasn't enough for the multi-millionaire MVP athletes, a brand-new C7 seems like an awfully generous prize. Scroll down

below

for an official announcement from

General Motors

.



Super Bowl XLVII MVP Takes Home Chevrolet Corvette Stingray

Presented by local Chevrolet dealer who rebounded after Hurricane Katrina
2013-02-04

NEW ORLEANS – The honor of awarding the Super Bowl XLVII MVP Award was given to Rick Flick of New Orleans' Banner Chevrolet, who knows a thing or two about comebacks. Banner Chevrolet, a part of Flick's family for 40 years, was wiped out by Hurricane Katrina and was the first business to reopen in New Orleans East after the devastating 2005 storm. On behalf of Chevrolet, the official sponsor of the Super Bowl XLVII MVP Award, Flick presented quarterback Joe Flacco with a 2014 Corvette Stingray on Monday in recognition of his effort in leading the Baltimore Ravens' to a 34-31 win over the San Francisco 49ers on Sunday night.

"Banner Chevrolet and the entire city of New Orleans have been through so much since the storm, we felt this was a small gesture to bring the comeback story full circle," said Alan Batey, GM vice president of U.S. Sales, Service and Marketing. "With the Super Bowl in his backyard, we couldn't think of a better guy to have the honor of awarding the MVP with his Corvette Stingray."


Banner Chevrolet was of the largest losses ever recorded for a dealership in the United States and recently completed a massive multimillion-dollar renovation with state-of-the-art technology. Banner is the only Chevrolet dealer in Orleans Parrish.

"We lost our entire inventory of 650 new Chevrolets and 120 pre-owned vehicles during Katrina," Flick said. "I'm happy we are still a vital part of this community today and I can be here to represent the people of Chevrolet and its dealerships as we celebrate the Super Bowl MVP."

The Super Bowl MVP receives the Pete Rozelle Trophy, a silver trophy made by Tiffany & Co., and the Corvette Stingray.

The 2014 Corvette Stingray is the most powerful standard model ever, with an estimated 450 horsepower (335 kW) and 450 lb.-ft. of torque (610 Nm). It is also the most capable standard model ever, able to accelerate from 0-60 in less than four seconds and achieve more than 1g in cornering grip. It is expected to be the most fuel-efficient Corvette, exceeding the EPA-estimated 26 mpg of the current model.

About Chevrolet

Founded in 1911 in Detroit, Chevrolet is now one of the world's largest car brands, doing business in more than 140 countries and selling more than 4.5 million cars and trucks a year. Chevrolet provides customers with fuel-efficient vehicles that feature spirited performance, expressive design, and high quality. More information on Chevrolet models can be found at www.chevrolet.com.

About Banner Chevrolet

Banner Chevrolet has been operating in New Orleans since 1972. The company has provided a stable work environment for its employees, many of whom have been with the company for more than 35 years. Banner is also involved throughout the New Orleans community on many levels, including work with Boys Hope Girls Hope, Second Harvest Food Bank, Friends of Lakeview, Lakeview Civic Improvement Association, Bayou District Foundation, Youth Service Bureau, Feeding the Needy, The Good Shepherd School, Walk the Beat and numerous schools and other charitable organizations.
---
By Jeremy Korzeniewski
---
See also: Steve McQueen's last movie car, now Pawn Stars-owned, up for auction [w/video], Camaro spy shots show subtly different grille, front fascia, GM recalling nearly 4,000 vehicles over airbag concerns.