Mercedes teams with Pebble for smartwatch tech
Tue, 24 Dec 2013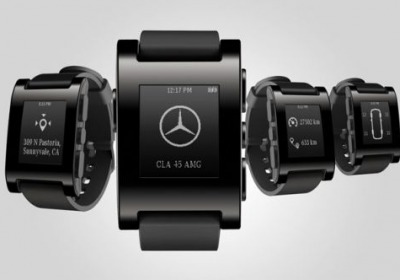 Most automakers have realized by now that a good infotainment system is a must-have feature for many buyers, and have, as a result, invested increasing amounts of time and money developing these technologies. But some automakers are going above and beyond in-car entertainment and navigation technology by focusing on wearable technology as well.

Nissan has emerged as one such company, developing its own alternative to Google Glass and performance-oriented smartwatch. But Mercedes-Benz is also putting itself at the forefront of wearable tech – not by developing competing products to those designed by dedicated tech companies, but by working with them. The German automaker, as we recently reported, is developing its own app for Google Glass, and is now doing the same with smartwatches as well.

Set to be unveiled at the upcoming Consumer Electronics Show in Las Vegas, Mercedes has collaborated with Pebble Technologies to develop the Digital DriveStyle app. The system will display tell its wearer where the car is, whether the doors are locked and if it needs fuel. Inside the car it'll alert the driver to potential hazards coming up on the road, while making functions like re-routing the nav system, controlling the audio system or activating Siri that much easier.

Mercedes-Benz redefines device integration and remote convenience

Dec 20, 2013
Intelligent connectivity: At CES Mercedes-Benz gives a glimpse of the future


- Mercedes-Benz announces strategic partnership with Pebble Technology
- Wearable device integration: enhanced vehicle diagnostic awareness and multisensory notifications

Stuttgart, Germany. Mercedes-Benz has announced a strategic partnership with Pebble Technology in the run-up to the 2014 International CES, the largest consumer electronics show in the world. These invaluable partnership gives Mercedes-Benz early access to some of the newest hardware and early releases of application programming interfaces (APIs) offered by the Silicon Valley-based company, allowing it to develop innovative integrated applications that pave the way for the future of in-vehicle use cases.

At its CES booth, Mercedes-Benz will demonstrate how an intelligently networked vehicle becomes a part of the "internet of things" - and what benefits this can have for the customer. For this proof of concept, the developers at Mercedes have reinvented the Digital DriveStyle app in order to allow it to communicate with Pebble smart watches.

Pebble: connect yourself to your car and never miss a beat
Pebble's smart watch acts as a "second screen" for your smartphone. This revolutionary wearable device unlocks some interesting features for the connected car. For example, when away from their vehicle, Mercedes-Benz drivers can review important vehicle information at a glance like fuel level, door-lock status, and vehicle location using their Pebble smart watch, even when they are outside the vehicle. When hopping into their car, the companion Pebble smart watch app magically transforms, alerting its driver to real-time hazards through V2V technology like accidents, road construction, or stalled vehicles by vibrating the watch. On top of this, users pairing their Pebble smart watch can customize the three watch buttons to activate their favourite Digital DriveStyle features like reporting hazards, auto-routing, Siri activation, remote-controlling media, or quickly showing nearby traffic conditions.

At the heart of innovation: Mercedes-Benz in Silicon Valley
Mercedes-Benz recognized 20 years ago that not just IT history but also the future of the automobile was being written in Silicon Valley, and was the first ever automobile manufacturer to open its own research facility at the home of innovation. In addition to creativity and invention, Silicon Valley mainly stands out on account of its unique culture of collaboration, involving short distances, networking, innovation and informal meetings. The physical proximity to companies such as Google, Apple and Facebook, as well as small, creative start-ups, allows Mercedes-Benz to integrate innovations into its vehicles quickly and in close cooperation with its partners, as well as to keep pace with the world of consumer electronics in terms of development cycles. The newly announced strategic partnership with Pebble Technology is further example of this culture of collaboration.
---
By Noah Joseph
---
See also: Aston Martin and Mercedes-AMG formalize technical partnership, Mercedes calls CLA 'best launch in 20 years' as it warns dealers of tight supplies, Mercedes dealers authorized to spend $2,500 on perks for S-Class customers.