Le Mans-winning Porsche 935 K3 'seized' by DEA agents
Thu, 16 Jan 2014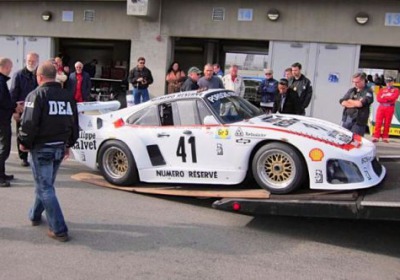 Porsche has won Le Mans more than any other marque, but only one of those overall race winners was actually based on a 911. That was the 1979 Porsche 935 K3, chassis number 009 00015 that was entered by brothers Don and Bill Whittington. It went on to win at the Nürburgring and Watkins Glen, and scored podium finishes at Sebring and Brands Hatch as well. In short, it's a historically significant and hugely valuable piece of motorsport history. And it was just seized by the DEA. Sorta.

After the Whittington brothers ran afoul of a handful of lawsuits and were implicated in smuggling narcotics, the car changed hands a few times before ending up in the noted collection of one Bruce Meyers. He had it at Laguna Seca earlier this month when a black Suburban, Dodge Charger and transporter truck pulled up with government plates, asked to speak with Meyer, presented him with a court order, loaded the car onto the truck and drove off.


Though familiar with the legal disputes surrounding the ownership of the car and the misdeeds of its famous original owners, Meyer was left understandably distraught over the events that had just unfolded in front of him to separate him from his pride and joy. (Or one of them, anyway; Bruce has got an eminently desirable collection of classic cars.) But here's the kicker: those DEA agents weren't actual DEA agents. Fortunately they weren't thieves, either. The actual story could have been the plot right out of Ocean's 14 if they ever made one and it focused on classic cars. (Is anyone in Hollywood listening?)

Read the full account at Sports Car Digest and view the images of the car in the gallery above.
---
By Noah Joseph
---
See also: Despite premium carmakers going downmarket, luxury auto sales stick at 10-11%, Jay Leno welcomes finely rebuilt Porsche 356 into his garage, There's a Porsche Cayman under here somewhere.