There's a Porsche Cayman under here somewhere
Wed, 15 Jan 2014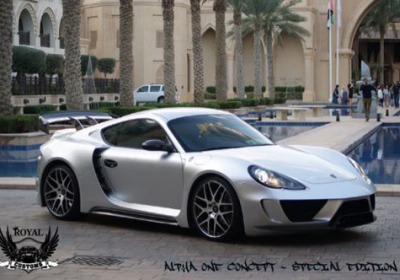 What we have here is the work of Dubai tuner Royal Customs that is controversial even beyond its styling. The Middle East aftermarket house says it spent fourteen months developing a bodykit for the Porsche Cayman, and the results seem to be aimed at those who wish their coupe were a 918 Spyder - the nose, strake-filled and widened rear fender, carbon fiber wing and massive diffuser all cribbing some from Stuttgart's new hybrid supercar.


Even without a buyer, the Alpha One Concept is already controversial. When WorldCarFans posted on the Royal Customs car recently, German tuner Alpha-N Performance wrote in alleging that the Dubai package copies their design from two years ago, which was also called the Alpha One, a design with which it's clear the Dubai Alpha One shares numerous cues. We asked Royal Customs about its relationship to the Alpha One car, we were told, "Yes, there is a lot we can say about the remarkable similarities all of which will be explained by our press release by Mr. Emil from Autogespot. Please wait for the official release and you will have the full exciting story. It's an 'actual success story' and not a 'replication' story."

The response is referring to an "extensive report" on the car coming out of Autogespot. Royal Customs doesn't have the Alpha One Concept on its site yet, so we're still missing quite a few details on it, such as whether the Porsche engine has been given a similarly 918-ish workover. We do know that the company says each car takes 30 days to build and it will only build three of them, which is a number that should satisfy any haters and, even more so, its buyers. You can decide which side of the fence you're on by having a close look at it in the gallery above.
---
By Jonathon Ramsey
---
See also: Watch the incredibly complicated operation of Porsche's new targa roof, 2014 Porsche Cayenne Platinum Edition is the ace of base, 2014 Porsche 911 Targa takes its crop-top off in Motor City.