Kurt Busch to shake and bake (again) in Ricky Bobby car at Talladega
Sat, 19 Oct 2013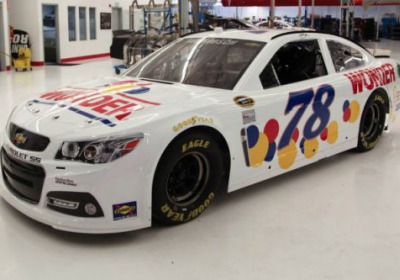 Kurt Busch will channel Ricky Bobby for another NASCAR race, this time driving a Wonder-sponsored Chevrolet SS, in this weekend's Camping World RV Sales 500 at the Talladega Motor Speedway. Unlike past tie-ins, though, there's actually an element of sponsorship here (the "Me" car was done when Busch was running on a team without sponsorship).

It was arranged by Flower Foods, the new owner of the Wonder brand. Wonder was part of the bankrupt Hostess company, which temporarily exited the US market 2012, and set off the Great Twinkie Shortage.


Busch has made something of a habit of channeling characters from famous racing movies, most recently running Tom Cruise's City Chevrolet livery from Days of Thunder in a Nationwide Series race earlier this year. Busch kicked off his movie-inspired antics, though, at Talladega in 2012, when he raced El Diablo's ("It's like... Spanish for like a fighting chicken") "Me" car complete with a cougar on the hood. He even went so far as to channel the lovable idiot that is Ricky Bobby during the race, dropping a few catchphrases about macchiatos and slingshots.

As for the Wonder car that Busch/Bobby will be driving at Talladega, it's not an exact copy of the car In Talladega Nights. For one, there's not a dangerous and inconvenient Fig Newton sticker on the windshield (although we do love Fig Newtons), and it sports a more modern scheme overall. Let's just hope it fares better than its cinematic counterpart, which ended the race as "toast" and left Ricky Bobby begging for help from Jesus, Jewish God, Allah and Tom Cruise.

The Wonder car will run in Sunday's race at Talladega, which starts at 1:00 PM and will air on ESPN.
---
By Brandon Turkus
---
See also: GM already raising prices on 2014 Silverado and Sierra pickups, Man surprises girlfriend with C7 Corvette, GM sweetens military discount for Buick, Chevy and GMC.