Camaro spy shots show subtly different grille, front fascia
Sun, 03 Feb 2013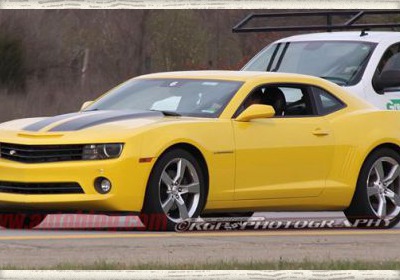 It looks like there some changes in store for the Chevrolet Camaro – the only thing is that we just don't know what Chevy has up its sleeve. Looking at these spy shots, we'd initially be inclined to think that there is just a minor facelift or a new special edition, but upon closer inspection, there are a few oddities about this car that definitely have us intrigued.

The most obvious difference on this prototype is the slightly restyled front fascia with a smaller lower air inlet and the two-bar grille. Then we get to some of the car's mysterious details. For starters, this fascia has the SS vent above the grille, but it looks to be blocked off. Granted this could just be a one-off piece used for testing. What really piqued our interest was at the rear of the car where it has quad exhaust outlets that are used on the ZL1. Could this be the LS7-powered Camaro that we reported on back in December?


At this point, your guess is as good as ours as to what we're looking at here, so let us know in the comments what you think this could be.
---
By Jeffrey N. Ross
---
See also: GM recalling nearly 4,000 vehicles over airbag concerns, 2014 Chevrolet Corvette Stingray convertible headed for Geneva debut, 2014 Chevy Cruze Diesel destined for Chicago debut.