GM takes heat for aborted Silverado riff on 'Boston Strong' at World Series
Thu, 31 Oct 2013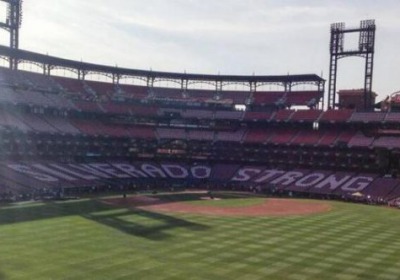 During game five of the World Series, Chevrolet was set to do a spot of marketing for the 2014 Silverado - fans at Busch Stadium in St. Louis would hold up placards that spelled out the words "Silverado Strong," a theme that Chevy has been promoting since the Silverado's launch with the song "Strong," by Will Hoge. The St. Louis promo was ultimately called off, though, over concerns that it'd be insensitive to the visiting Boston Red Sox. (You can see the image of what the stunt would have looked like above, courtesy of one timely Reddit user.)

Now, the Busch Stadium stunt might not have been a big deal, had the St. Louis Cardinals not been playing the Boston Red Sox. Following the tragic events in Boston during the marathon back in April, the phrase "Boston Strong" gained traction among the city's citizens, especially at sporting events. So, you can imagine that Chevy's appropriation of the phrase might not sit well with some fans.


The stunt was ultimately shelved after images of the signs went viral before the game, leading to a bit of a public backlash. Chevy spokesperson Michael Albano said of the promo that it was meant to show the brand's "commitment to baseball and its fans." But after the images went viral, the company "realized there was the possibility that we may offend some of the very fans we were trying to honor," Albano told Automotive News via email.

As AN reports, the idea of the Silverado Strong promotion still doesn't sit well with some, with one Yahoo! Sports writer going to far as accusing GM of "[profiting] from domestic terrorism with a marketing campaign." We want to know what you think. Is this a case of political correctness going overboard - Automotive News does point out that no one own's the word "strong" - or was GM's move in poor taste?
---
By Brandon Turkus
---
See also: Chevy monitors drivers' biometrics while experiencing new Corvette Stingray, GM dealers unhappy about pickup prices, Kurt Busch to shake and bake (again) in Ricky Bobby car at Talladega.