Ford confirms 1.5-liter EcoBoost four-cylinder engine for 2014 Fusion
Thu, 11 Apr 2013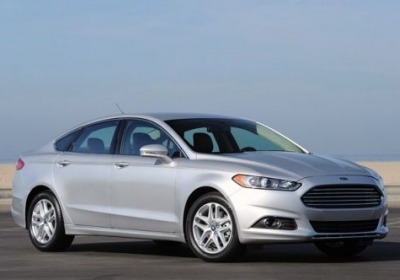 Earlier this week, reports were swirling 'round the internet about the 2014 Ford Fusion getting a new 1.5-liter three-cylinder EcoBoost engine. That was... half correct. Ford today confirmed that the 2014 Fusion is, in fact, getting a new 1.5-liter EcoBoost mill, but it has four cylinders, not three.

The new 1.5-liter engine will be the fifth EcoBoost powerplant from Ford Motor Company. Initially to be built at the automaker's Craiova, Romania plant, it will also be offered in the Fusion's twin, the Mondeo, in other markets. This engine will debut at the Shanghai Motor Show next month, and the 1.5-liter is of particular importance in the Chinese market – there is significant tax relief in the People's Republic for vehicles powered by engines with a capacity of 1.5 liters or less.

At a media briefing Thursday, Ford declined to divulge exact power or fuel economy numbers, though Joe Bakaj, vice president of powertrain engineering, told Autoblog that power output should be similar to that of the current 1.6-liter inline-four, and that overall efficiency will be "better than the 1.6." Our earlier report stated that the 1.5-liter four will produce 177 horsepower and 177 pound-feet of torque – losses of 1 hp and 7 lb-ft versus the 1.6-liter engine. Ford states that the 1.5-liter four will feature many of the same technologies used on the company's 1.0-liter EcoBoost inline-three, including an integrated exhaust manifold that recaptures much of the engine's heat.

Ford will release more information regarding the 1.5-liter engine later this year, including availability in the 2014 Fusion. Earlier, we reported that the 1.5 would only be available with Ford's six-speed SelectShift automatic transmission, though the 1.6 would be kept around for those preferring the company's six-speed manual setup.

Scroll down for more information about the 1.5-liter EcoBoost engine in Ford's press release.

Ford Launches New Fuel-Efficient 1.5-Liter EcoBoost Engine; Boosts Company's Global EcoBoost Capacity

- Ford announces new fuel-efficient 1.5-liter EcoBoost® engine, extends successful EcoBoost lineup to meet global demand for four-cylinder EcoBoost engines

- Ford now has capacity to build 1.6 million EcoBoost engines annually, triples number of plants that produce EcoBoost engines in Europe, Asia and North America from 2010 to 2013

- 1.5-liter EcoBoost offers trademark EcoBoost turbocharging, direct fuel injection and variable valve timing; delivers power of a larger engine with smaller unit economy

- Fifth Ford EcoBoost engine delivers new innovations, and significant consumer benefits in global markets offering tax reductions for vehicles equipped with engines of 1.5-liter capacity or less



DEARBORN, Mich., April 11, 2013 – Ford Motor Company today announces a new 1.5-liter EcoBoost® engine will join its lineup of fuel-efficient, innovative powertrains. The 1.5-liter engine is a key strategic entry for Ford, as the company works to meet strong global demand for its four-cylinder EcoBoost engines.

With the launch of this newest fuel-efficient engine, Ford now has capacity to build 1.6 million EcoBoost engines annually. By the end of 2013, six plants across Europe, Asia and North America will be producing EcoBoost engines, triple the number that were doing so in 2010.

Production of the four-cylinder 1.5-liter EcoBoost – the fifth member of the EcoBoost family – will commence initially at Ford's world-class facility in Craiova, Romania, later this month. Other manufacturing locations will be announced in the future. The new engine will be first introduced in China in the all-new Ford Mondeo, making its public debut later this month at Auto Shanghai 2013, with applications following in the Fusion sedan in North America this year, and later the new Mondeo in Europe.

As a key contributor to Ford's aggressive fuel economy and emissions strategy, EcoBoost technologies enable improvements to both fuel efficiency of 20 percent and emissions of up to 15 percent. The 1.5-liter engine benefits from signature EcoBoost turbocharging, direct fuel injection and variable valve timing, and has been designed to be even more fuel efficient and offer high levels of refinement, quietness and performance.

Additionally, the newest EcoBoost engine will be a strategic entry for Ford in global markets that offer tax relief to consumers who purchase vehicles powered by engines of 1.5-liter capacity or less.

The new aluminum-block, twin-cam 1.5-liter EcoBoost engine will include some of the innovative features introduced on the award-winning 1.0-liter EcoBoost such as an integrated exhaust manifold. The new engine is expected to provide similar horsepower and torque performance to Ford's current 1.6-liter EcoBoost, while delivering improved fuel economy and lower CO2 emissions.

The 1.5-liter EcoBoost is the first engine from Ford to incorporate a computer-controlled clutch on the belt-drive water pump, which further improves efficiencies by reducing warm-up time. A water-cooled charge air cooler is added to offer a more efficient feed of air into the engine.

"Ford EcoBoost technology has changed the way people look at gas engines and has enjoyed huge success with customers," said Joe Bakaj, vice president, powertrain engineering for Ford. "The new 1.5-liter unit further extends our EcoBoost promise of economical driving in terms of both fuel efficiency and – in some markets – tax savings."

Ford has sold more than 600,000 EcoBoost-equipped vehicles globally since the range was launched with the 3.5-liter V6 EcoBoost in 2009. Ford added the 2.0-liter EcoBoost in 2010, the 1.6-liter EcoBoost followed in 2011, and last year the 1.0-liter EcoBoost was launched, winning the 2012 "International Engine of the Year" award.

By the end of this year, nearly 80 percent of the company's global nameplates will be available with fuel-saving EcoBoost technology.
---
By Steven J. Ewing
---
See also: Ex-GM VP LaNeve takes over Lincoln ad agency, Toyota again claims Corolla outsold Focus worldwide, Ford announces 2014 F-150 SVT Raptor Special Edition.