Ford bringing production F-150 to Detroit with Atlas styling and Alcoa blast shields
Fri, 27 Dec 2013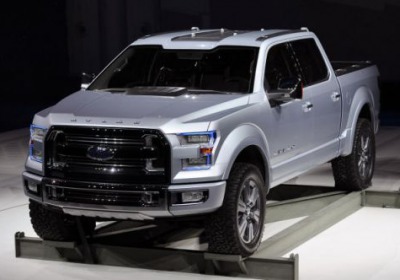 According to a report in Bloomberg, the 2015 Ford F-150 will indeed be showing up at the Detroit Auto Show next month. It will bring attitude with it, not only in the form of sheetmetal inspired by the Atlas concept (pictured) that appeared at the 2013 Detroit show but also in the Alcoa military blast shields among the display being used to showcase the ruggedness of aluminum.


There's been a lot of talk about the F-150 switching to aluminum body panels (although maintaining a steel frame), and for good reason. The lightweight body is expected to shed more than 700 pounds and greatly increase its highway mileage, but production-line issues and possible delays have been a major focus of attention concerning the best-selling vehicle in America for 32 years, meaning Ford has to get it right. F-150 is responsible for a massive portion of the company's global profits and it will come in a year when company profits are already predicted to decline because of new car launches.

When it comes to dings, the Bloomberg story says Ford wants Alcoa to supply some of the military-grade aluminum it uses for blast shields on battlefield vehicles to help it talk up the toughness of aluminum. Reading commentary on the many stories about the F-150 reveals there are many more little questions about the aluminum overhaul, like "How much will it cost to repair and insure?" and "How will companies hang their magnetic signs?" Answers should start coming in a couple of weeks.
---
By Jonathon Ramsey
---
See also: Ford will build Hackmobile out of Transit Connect Wagon, Rolling footage of the 2015 Ford Mustang hits YouTube [w/video], How Ford hid the 2015 Mustang from spy photographers.