Expect greater differentiation in GM's next-generation SUVs
Thu, 03 Jan 2013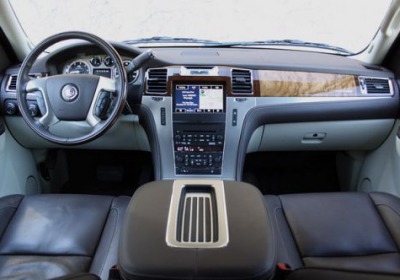 General Motors says its next-generation Chevrolet Tahoe, Suburban, GMC Yukon and Cadillac Escalade models will offer shoppers improved interior differentiation. Car and Driver recently caught up with Chris Hilts, GM's creative manager of interior design, who said that the cabins will all feature unique instrument panels, consoles, center stacks and switchgear moving forward. Apparently GM is now aware that consumers may be bothered by the fact that today's $85,000 Escalade has effectively the same cabin as a $45,000 Tahoe. Hilts says SUV buyers want more refinement than their pickup purchasing counterparts – and those same buyers also want their SUVs to have more exterior differentiation between the company's Silverado and Sierra pickup lines. Shocking.


That all sounds good to us, but we've heard this song and dance before. GM made big waves about how different the new-for-2013 Silverado and Sierra would look from each other, but judging by what we've seen so far, GM's stylists are painting in shades rather than with the full spectrum. For more on the what to expect out of GM's new SUVs, click on the C/D link below.
---
By Zach Bowman
---
See also: Silverado HD, Touareg V10 TDI face off in diesel tug-of-war, How the demise of Lincoln's Town Car has kick-started a limo revolution, Forza Horizon announces January Recaro Car Pack with LFA N"urburgring Edition.