Forza Horizon announces January Recaro Car Pack with LFA N"urburgring Edition
Wed, 26 Dec 2012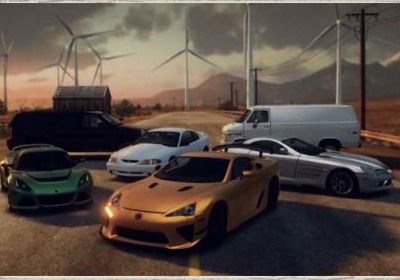 Another month, another car pack for Forza Horizon. This time it's the Recaro Car Pack featuring a motley gang of cars and trucks: the 1983 GMC Vandura G-1500, 1995 Ford Mustang Cobra R, 2012 Cadillac Escalade ESV, 2005 Mercedes-Benz SLR, 2012 Lexus LFA Nürburgring Edition and 2012 Lotus Exige S.

It'll be up for download on Xbox Live on Tuesday, Jan. 1, 2013 for 400 MS Points. As usual, if you have the Forza Horizon Season Pass you can get them all free, and Season Pass holders will also get a bonus car that's not pictured: the 2009 Pagani Zonda Cinque Roadster.

The Pagani is everything opposite to that Vandura, but while you might not ever win anything with the van, you can always use the back of it as a place to give out free hugs. Check out the video and press release below for more details.



"Forza Horizon" Bringing High Speed Thrills With January Recaro Car Pack
New Year's Day brings six new cars to 2012's Highest-Rated Racing Game

Microsoft and Turn 10 Studios today announced the upcoming release of the January Recaro Car Pack for "Forza Horizon." Available for download on Tuesday, Jan. 1, 2013 on Xbox LIVE for 400 Microsoft Points, the January Recaro Car Pack will deliver six new cars to "Forza Horizon," including one of the fastest vehicles to enter the Horizon Festival the 2012 Lexus LFA Nürburgring Edition, a car destined to become a fan-favorite.

Players who own the "Forza Horizon" Season Pass will be able to download the January Recaro Car Pack for no additional cost. In addition, Season Pass owners will also receive the January Season Pass Bonus Car, the 2009 Pagani Zonda Cinque Roadster for free.


The January Recaro Car Pack includes:
• 2012 Cadillac Escalade ESV -- For some, owning an Escalade is synonymous with saying, "I've arrived." Big, luxurious, and reveling in ostentatious style, the Escalade is as in your face as it is difficult to find a parking place for. Whether you are looking for something to take on a road trip on the hundreds of miles of open road in "Forza Horizon's" Colorado, or looking for an intimidating ride to fill up your opponent's rear view mirror, the Escalade fits the bill.

• 1983 GMC Vandura G-1500 -- One of the most versatile vehicles in "Forza Horizon," the GMC Vandura is undoubtedly a fan favorite. From throwing its bulk around in multiplayer online games to being an ideal canvas for Forza painters, the Vandura can do it all.

• 2012 Lotus Exige S -- For 2012, the Exige S gained some mass, adding a little over 500 pounds to its otherwise feather-light curb weight. Thankfully most of that weight is due to the much larger V6 that delivers more than a hundred additional horsepower. The Exige S is nimble as ever but delivers significantly faster acceleration and a much higher top speed than the base Exige, making this driver's car even more appealing to performance fanatics.

• 2012 Lexus LFA Nürburgring Edition -- With only fifty units planned for production, the LFA Nürburgring Edition is a rare bird; a specially track tuned edition aimed at potential owners who intend on driving their LFA competitively. The "Forza Horizon" edition doesn't come with a free night at Motorsport Hotel Nürburgring like the real one does, but it does include the bump in horsepower, Recaro race seats, a recalibrated closer shifting transmission, and a fixed rear wing. The result is a car that's as unforgettable behind the wheel as it is when you watch it pass by.

• 2005 Mercedes-Benz SLR -- This carbon fiber constructed, 617-horsepower exotic sport-GT is the product of the relationship between Mercedes-Benz and McLaren. The result is nothing less than astounding--lightning quick acceleration, optimum weight distribution, and unparalleled safety. The SLR is refined and stylish, but let's not forget that barely tamed AMG twin screw powerplant, which is the heart and soul of this angry beast.

• 1995 Ford Mustang Cobra R -- A good sign of a car's track potential is when you have to show a valid racing license to order one. Such was the case with the Cobra R. First, the folks at Ford's Special Vehicle Tuning group lightened the new Mustang wherever possible then they dropped in an SVT-tuned, 5.8-liter Windsor V8. Brake cooling ducts replaced the fog lights and the suspension was improved to keep up with the potential of the 300 horsepower under the hood. Just 250 Cobra R models were built and while rare, they are easily spotted by the tall center tier of the hood that was necessary to accommodate the Windsor and its considerable intake.

Where Cars Belong: "Forza Horizon" is available in a Limited Collector's Edition ($79.99 U.S. ERP) and Standard Edition ($59.99 U.S. ERP). The game is rated "T" For Teen by the ESRB.
---
By Jonathon Ramsey
---
See also: UK auto magazine says this is the best car commercial of all time [w/videos], GM recalling 118K Colorado, Canyon pickups over missing hood latches, Lotus Evora 'Sports Racer' is oddly named and fully loaded.