Chevy confirms Corvette Stingray Convertible for Geneva
Thu, 07 Feb 2013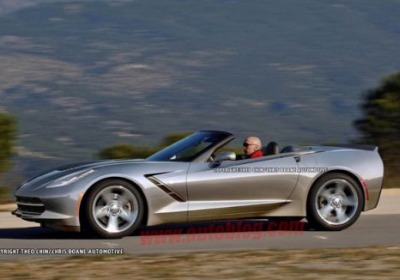 Want proof that General Motors has increased global ambitions for its 2014 Chevrolet Corvette Stingray? It's staging the world premiere of the model's convertible variant at the Geneva Motor Show early next month.

As previously rumored, the droptop rendered above will debut at the Swiss show, making its first appearance anywhere on March 5. According to Susan Docherty, president and managing director of Chevrolet, the location makes sense because Corvette "...is an icon that has long been recognized and admired even in countries where it's never officially been offered."

While neither Chevrolet nor the Corvette has a major sales presence in Switzerland, the Bowtie's European headquarters is located in Zurich (about three hours to the northeast of Geneva) and GM has made it clear that it wants to build the Chevrolet brand up across Europe.

In other news, Chevrolet has announced that it will auction off the first retail Corvette Convertible for charity, at Barrett-Jackson's Palm Beach auction. The proceeds of the sale will go to the Michigan-based Barbara Ann Karmanos Cancer Institute. Autoblog regulars may remember that the very first C7 Coupe was auctioned off for charity last month by Barrett-Jackson at its Arizona sale, drawing a cool $1.1M.

Corvette Stingray Convertible to Debut at Geneva

Auction of first retail production model to benefit Barbara Ann Karmanos Cancer Institute
2013-02-07

ZURICH – The 2014 Chevrolet Corvette Stingray convertible will make its world debut on March 5 at the Geneva Motor Show.

"It's fitting to introduce the new Stingray convertible on the global stage at Geneva because Corvette is the face of Chevrolet the world over," said Susan Docherty, president and managing director of Chevrolet and Cadillac Europe. "It is an icon that has long been recognized and admired even in countries where it's never officially been offered."


There are Corvette owner and enthusiast clubs in more than 100 countries, and 58 percent of the 1.1 million fans who "Like" Corvette's official Facebook page reside outside the United States.

The Corvette Stingray convertible will deliver the same balance of technology, design and performance introduced on the coupe in January in Detroit.

"Every Corvette is designed at the outset as an open car," said Tadge Juechter, Corvette chief engineer. "The new Stingray is no different, with the coupe and convertible designed to excel in any situation – be it your daily commute, a drive across the continent, or charging through twisting back roads."

Chevrolet will auction the first retail production model of the Corvette Stingray convertible at the Barrett-Jackson Palm Beach collector car auction to benefit the Barbara Ann Karmanos Cancer Institute.

Karmanos, based in southeast Michigan, is a unique, urban-based integrated center of research, patient care and education, dedicated to the prevention, early detection, treatment and eventual eradication of cancer.

The Barrett-Jackson will be held April 4-6 at the South Florida Fairgrounds in Palm Beach, Fla. Bids can be submitted in person at the auction or online at www.barrett-jackson.com.

In January, the first retail production model of the 2014 Corvette Stingray – with the Vehicle Identification Number ending in 0001 – sold at the Barrett-Jackson Scottsdale collector car auction for $1.05 million. Proceeds from that sale benefitted the College for Creative Studies in Detroit.

Geneva will also host the European debut of the Spark EV, Chevrolet's electric, five-door mini car.

Founded in 1911 in Detroit, Chevrolet is now one of the world's largest car brands, doing business in more than 140 countries and selling more than 4.5 million cars and trucks a year. Chevrolet provides customers with fuel-efficient vehicles that feature spirited performance, expressive design, and high quality. More information on Chevrolet models can be found at www.chevrolet.com or www.chevroleteurope.com or media.chevroleteurope.com.
---
By Chris Paukert
---
See also: 2014 Chevrolet Cruze TD fires up its new diesel motor, 2014 Chevy Cruze Diesel arrives with 42 mpg for $25,695*, GM throttles back Chevy Malibu, Buick LaCrosse production over swollen inventories.