2014 Chevrolet Cruze TD fires up its new diesel motor
Thu, 07 Feb 2013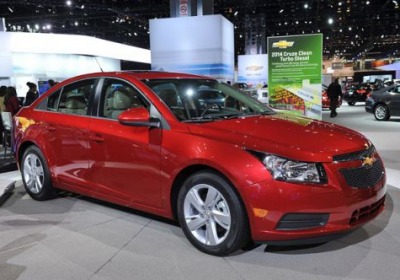 Ever since General Motors confirmed plans to produce a diesel-powered Cruze back in 2011, we've been eagerly awaiting its arrival. And as part of the 2013 Chicago Auto Show, Chevrolet has pulled back the cover on its oil-burning compact sedan, set to go on sale in the near future with a starting price of $25,695, not including $810 for destination.

The heart and soul of the Cruze TD (that's its official name) is a 2.0-liter turbo-diesel inline four-cylinder engine rated at 148 horsepower and 258 pound-feet of torque, mated solely to a six-speed automatic transmission. The engine also has an overboost function that will increase torque to 280 lb-ft for up to ten seconds. The full brace of official specs haven't been released, but GM tells us that highway fuel economy will come in at 42 miles per gallon. If that number sounds familiar, it's because the Volkswagen Jetta TDI has the exact same rating. Unlike the Jetta, however, the Cruze TD can run on B20 biodiesel, where as the Volkswagen can only accept B5.

Model-specific changes to this 2014 Cruze TD include an aero kit and unique 17-inch alloy wheels. Inside, there's a full leather interior, and Chevrolet will provide two years of complimentary scheduled maintenance, not to mention a 100,000-mile powertrain warranty.

Everything you need to know about the Cruze TD is in the press release below, and have a look through our gallery of live photos to see the torquey little Chevy for yourself.

CHICAGO – Chevrolet is entering the U.S. and Canadian diesel car markets this summer with a 2.0L turbo-diesel version of its hottest-selling sedan, the Cruze, featuring the cleanest diesel passenger car engine General Motors has ever produced.

Clean diesels generate at least 90 percent less Nitrogen Oxide (NOx) and particulate emissions when compared to previous-generation diesels.

Built in Lordstown, Ohio, the 2014 Cruze Clean Turbo Diesel delivers a combination of segment-leading features and efficiency. Based on GM testing, the Cruze Clean Turbo Diesel has demonstrated estimated best-in-segment range and 42 mpg on the highway with spirited performance and the durability diesel owners value around the globe.

"Chevrolet has a diverse portfolio of products and technologies to meet the needs of the most discerning customer, whether it's driving across town gas free in a Spark EV or cross-country in a clean turbo diesel," said Chris Perry, Chevrolet vice president of marketing.


The compact sedan's new 2.0L turbo-diesel engine produces segment-leading estimated 148 horsepower (110 kW) and estimated 258 lb-ft torque (350 Nm) with 0-60 performance of 8.6 seconds, which is better than the Volkswagen Jetta TDI automatic and competitive with German diesel cars that dominate the U.S. market.

Cruze Clean Turbo Diesel's emissions will be below stringent U.S. environmental standards including Tier 2 Bin 5 emissions standards.

"Cruze Clean Turbo Diesel fills an important role in Chevrolet's diverse four-cylinder lineup, and is primed to win over diesel devotees and compact car buyers with its performance, torque and fuel economy," said Perry. "We leveraged engineering expertise from around the globe to develop a world-class, low-emissions engine to give U.S. and Canadian customers a car that's both fun to drive and practical at the pump."

With a starting price at $25,695, including a $810 destination charge (excludes tax, title, license, and dealer fees) Cruze Clean Turbo Diesel comes with a six-speed automatic transmission, four-wheel antilock disc brakes, 3.20 final drive ratio, 140-amp alternator, 800 cold-cranking amps battery, 17-inch alloy wheels, ultra-low-rolling resistance all-season tires, rear spoiler, Aero Performance Package and leather-appointed seating.

Other standard features include Chevrolet's infotainment system MyLink, a two-year maintenance plan, and a five-year 100,000 mile powertrain warranty.

"Cruze Clean Turbo Diesel is the most sophisticated passenger car diesel engine GM has ever produced," said Jens Wartha, GM global program manager and chief engineer for the Cruze's diesel engine. "We merged European diesel expertise with the real world driving preferences of North American consumers."

GM has sold nearly 2 million Chevrolet Cruze models globally since it was launched in mid-2010. GM produced more than half a million small diesel-engine carsacross Europe, Asia, Africa and South America last year, including Cruze. In Europe, approximately 40 percent of Cruze models are diesel-powered.

Founded in 1911 in Detroit, Chevrolet is now one of the world's largest car brands, doing business in more than 140 countries and selling more than 4.5 million cars and trucks a year. Chevrolet provides customers with fuel-efficient vehicles that feature spirited performance, expressive design, and high quality. More information on Chevrolet models can be found at www.chevrolet.com.
---
By Steven J. Ewing
---
See also: 2014 Chevy Cruze Diesel arrives with 42 mpg for $25,695*, GM throttles back Chevy Malibu, Buick LaCrosse production over swollen inventories, Chevy exec confirms SS production model reveal at Daytona on Feb 16.