2014 Chevy Cruze Diesel arrives with 42 mpg for $25,695*
Thu, 07 Feb 2013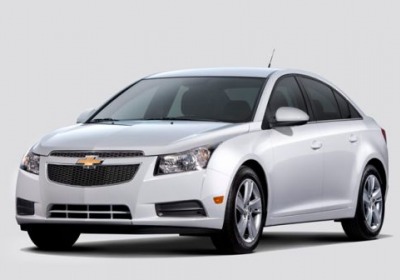 The last time General Motors had a diesel passenger car in the US, it was the 1.8-liter 1986 Chevette. At the 2013 Chicago Auto Show today, GM is unveiling the much-anticipated 2014 Chevrolet Cruze Diesel. The compact bows with a 2.0-liter turbo-diesel four-cylinder engine that boasts 148 horsepower and 258 pound-feet of torque, with full twist coming on at just 2,000 rpm. What's more, the common-rail, direct-injection diesel features an overboost function that allows the engine to deliver up to 280 lb-ft of torque for 10 seconds at a time. Even with 10 more horsepower and 110 more pound-feet of torque than the available turbocharged 1.4-liter four-cylinder in the Cruze, the 2.0-liter diesel engine can return up to 42 mpg (highway) bolted to its six-speed automatic transmission.

If you're counting, that figure meets the less powerful Cruze Eco with a six-speed manual transmission. More importantly, the auto transmission Cruze Diesel matches its main competition, the Volkswagen Jetta TDI, in highway fuel economy. The Cruze 2.0 TD (as it will be badged) can also handle up to 20 percent biodiesel (B20), whereas the Jetta is rated only for B5. General Motors has not released city fuel economy for its newest diesel, but we do know how much it will cost you to jump behind the driver's seat.

GM will kindly ask for $25,695, plus an $810 destination fee. That marks a $2,115 premium over a loaded Cruze LTZ Auto and $2,640 more than the Jetta TDI, though the MSRP will net you a leather interior, 17-inch alloy wheels and an Aero Performance Package, as well as a two-year maintenance plan and five-year, 100,000-mile powertrain warranty. Compared to the gas-powered Cruze, you also lose a couple cubic feet of rear cargo space thanks to a 17-liter diesel emission fluid tank. That urea fluid, which helps put the clean in clean diesel, will need to be refilled at least every 10,000 miles.

The Cruze's diesel engine will be built in Kaiserslautern, Germany and the car will be produced starting in April at GM's plant in Lordstown, OH. Sales should kick off in May or June and cars will first roll out in 13 select states where GM has had success selling diesel-powered Silverado trucks. If you're thinking GM did something similar when the Volt was released, you're right. GM is again targeting buyers who are familiar and interested in a new (well, new since 1986, anyway) technology. This time, though, instead of zero emissions and li-ion, the audience knows that there's a significant difference between the label and real-world fuel efficiency of diesel vehicles, and so might be persuaded to do the math on higher diesel fuel costs and come to a favorable conclusion.

You can read the full press releases, both on the Cruze Diesel and its beating heart, below. Now we just have to wait for the wagon.

Sebastian Blanco contributed to this report.

Chevrolet Debuts 2014 Cruze Clean Turbo Diesel

• Turbocharging helps deliver segment-leading 148 horsepower and 258 lb-ft of torque with estimated 42 mpg highway
• $25,695 MSRP includes destination and two-year maintenance plan

CHICAGO – Chevrolet is entering the U.S. and Canadian diesel car markets this summer with a 2.0L turbo-diesel version of its hottest-selling sedan, the Cruze, featuring the cleanest diesel passenger car engine General Motors has ever produced.

Clean diesels generate at least 90 percent less Nitrogen Oxide (NOx) and particulate emissions when compared to previous-generation diesels.

Built in Lordstown, Ohio, the 2014 Cruze Clean Turbo Diesel delivers a combination of segment-leading features and efficiency. Based on GM testing, the Cruze Clean Turbo Diesel has demonstrated estimated best-in-segment range and 42 mpg on the highway with spirited performance and the durability diesel owners value around the globe.

"Chevrolet has a diverse portfolio of products and technologies to meet the needs of the most discerning customer, whether it's driving across town gas free in a Spark EV or cross-country in a clean turbo diesel," said Chris Perry, Chevrolet vice president of marketing.

The compact sedan's new 2.0L turbo-diesel engine produces segment-leading estimated 148 horsepower (110 kW) and estimated 258 lb-ft torque (350 Nm) with 0-60 performance of 8.6 seconds, which is better than the Volkswagen Jetta TDI automatic and competitive with German diesel cars that dominate the U.S. market.

Cruze Clean Turbo Diesel's emissions will be below stringent U.S. environmental standards including Tier 2 Bin 5 emissions standards.

"Cruze Clean Turbo Diesel fills an important role in Chevrolet's diverse four-cylinder lineup, and is primed to win over diesel devotees and compact car buyers with its performance, torque and fuel economy," said Perry. "We leveraged engineering expertise from around the globe to develop a world-class, low-emissions engine to give U.S. and Canadian customers a car that's both fun to drive and practical at the pump."

With a starting price at $25,695, including a $810 destination charge (excludes tax, title, license, and dealer fees) Cruze Clean Turbo Diesel comes with a six-speed automatic transmission, four-wheel antilock disc brakes, 3.20 final drive ratio, 140-amp alternator, 800 cold-cranking amps battery, 17-inch alloy wheels, ultra-low-rolling resistance all-season tires, rear spoiler, Aero Performance Package and leather-appointed seating.

Other standard features include Chevrolet's infotainment system MyLink, a two-year maintenance plan, and a five-year 100,000 mile powertrain warranty.

"Cruze Clean Turbo Diesel is the most sophisticated passenger car diesel engine GM has ever produced," said Jens Wartha, GM global program manager and chief engineer for the Cruze's diesel engine. "We merged European diesel expertise with the real world driving preferences of North American consumers."

GM has sold nearly 2 million Chevrolet Cruze models globally since it was launched in mid-2010. GM produced more than half a million small diesel-engine cars across Europe, Asia, Africa and South America last year, including Cruze. In Europe, approximately 40 percent of Cruze models are diesel-powered.

Founded in 1911 in Detroit, Chevrolet is now one of the world's largest car brands, doing business in more than 140 countries and selling more than 4.5 million cars and trucks a year. Chevrolet provides customers with fuel-efficient vehicles that feature spirited performance, expressive design, and high quality. More information on Chevrolet models can be found at www.chevrolet.com.

Cruze Clean Turbo Diesel Delivers Efficient Performance


CHICAGO – The all-new 2014 Chevrolet Cruze Clean Turbo Diesel features an advanced 2.0L clean diesel engine that will offer an estimated 42 mpg highway with an automatic transmission and expected best-in-segment range based on GM testing. Clean diesels generate at least 90 percent less Nitrogen Oxide (NOx) and particulate emissions when compared to previous-generation diesels. It is the cleanest diesel passenger car engine ever produced by General Motors.

Cruze's 2.0L turbo-diesel is based on proven architecture already used in European models, where approximately 40 percent of all Cruze models sold feature a diesel engine. Collaborating with Italian and German engineering groups, GM's diesel experts in the United States adapted the engine to accommodate more stringent diesel emission standards and a wider range of driving conditions – including colder climates and higher altitudes – for the United States and Canada.

"This Cruze Clean Turbo Diesel represents a new era in diesel performance for American cars," said Jens Wartha, GM chief engineer. "We've adapted a proven engine from Europe, the world's diesel capital, and married it with the emissions-reducing technology that was perfected in the United States. It's a great example of how Chevrolet's global resources work harmoniously to produce the right product at the right time and for the right market."

Cruze's new 2.0L turbo-diesel delivers a segment-leading estimated 148 horsepower (110 kW) and estimated 258 lb-ft of torque (350 Nm). Peak torque is achieved at a low 2,000 rpm for a sustained feeling of power on demand at almost all speeds – particularly when passing or entering a freeway onramp.

The engine has an overboost feature capable of increasing torque to an estimated 280 lb-ft (380 Nm), for stronger acceleration periods of about 10 seconds.

"With the benefit of continuous refinement in other markets, the 2.0L turbo-diesel comes to the United States and Canada with performance that will impress," said Mike Siegrist, assistant chief engineer. "It is powerful, efficient and clean. It will change perceptions of what a diesel car can be while giving customers another fuel efficient choice in the Cruze lineup."

Cruze models in the United States and Canada offer a 1.4L turbo, a 1.4L Eco model and 1.8L naturally aspirated engine.

The 2.0L turbo-diesel engine provides greater fuel economy than a comparably sized gasoline engine through greater thermal efficiency, a higher compression ratio and an unthrottled combustion process. It features an iron cylinder block and a forged steel crankshaft, each designed to stand up to the greater cylinder pressures that come with a turbo-diesel engine.

A lightweight aluminum cylinder head and aluminum intake manifold contribute to the engine's comparatively low weight of 408 pounds (185 kg), helping the Cruze Clean Turbo Diesel deliver a balanced ride with outstanding handling characteristics. Additional highlights include:

• Dual overhead camshafts with four valves per cylinder and maintenance-free hydraulic lifters with low-friction roller-finger followers
• Quiet belt-driven cams/valvetrain with high-strength belt material and tensioner rated for 100,000 miles
• High-strength aluminum pistons with reinforced top ring and integral combustion bowl design
• Central direct injection, with the injector positioned in the middle of the cylinder, with the bowl in the piston serving as the combustion chamber. This enables a high 16.5:1 compression ratio that enhances power and combustion efficiency
• Variable-swirl intake manifold design, which optimizes air charge mixture motion in the cylinders for a more-efficient combustion that enhances performance and reduces emissions
• Common-rail fuel system with Piezo fuel injectors that create multiple injections per combustion for greater performance, combustion efficiency and quietness
• Variable-nozzle turbocharger that broadens the engine's torque curve, particularly at low rpm, and supports greater high-rpm horsepower. It is mounted close to the exhaust outlet of the engine for quicker "spool up" of the turbine and faster "light off" of the exhaust catalyst
• Intercooling system produces a cooler, denser air charge for greater power
• Piston oil jets that help reduce friction and optimize piston temperature for greater performance and efficiency
• Turbocharger bearings are oil-lubricated and cooled via an oil cooler
• Variable-displacement oil pump helps save fuel by optimizing the oil pressure, which reduces friction
• Vacuum pump designed for lower engine friction
• Ceramic glow plugs, which provide greater cold-start performance over conventional metal glow plugs (an engine oil heater is offered for cold climates)
• B20 bio-diesel compatibility.

Quiet, smooth performance is enabled by a number of features on and around the engine. There are also sound-absorbing features added to the Cruze, specific to the diesel model, including a unique dash mat, hood blanket and more.

A precise exhaust gas recirculation control system features a high-capacity cooler and bypass feature that enable the engine to meet United States and Canada's tough diesel emissions regulations. There is also an exhaust after-treatment system is similar to what is used on Chevrolet's heavy-duty trucks and vans equipped with the Duramax diesel, including a diesel particulate filter and urea injection, that helps make the 2.0L the cleanest diesel passenger car engine ever from GM.

An approximately 4.5-gallon (17 liters) tank in the Cruze Clean Turbo Diesel holds enough diesel emissions fluid to provide at least 10,000 miles (16,000 km) of driving between refills. The system is also designed for servicing to coincide with oil changes, for greater convenience.

DIESEL FAST FACT: General Motors produces approximately half a million small diesel engines around the globe every year.
---
By Zach Bowman
---
See also: GM throttles back Chevy Malibu, Buick LaCrosse production over swollen inventories, Chevy exec confirms SS production model reveal at Daytona on Feb 16, Was the C7 Corvette cut from Beyonce's Super Bowl halftime show?.