2014 Chevrolet Corvette Stingray convertible headed for Geneva debut
Mon, 28 Jan 2013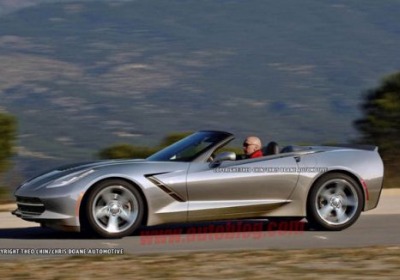 While most of the world is still coming down from all the hype surrounding the debut of the 2014 Chevrolet Corvette Stingray at the Detroit Auto Show earlier this month, we're already looking to the future. And according to Autoweek, the next chapter in the C7 story will unfold at the Geneva Motor Show in March. That's right, General Motors is reportedly using the Swiss stage as its venue to debut the Corvette Stingray convertible.

If this strikes you as odd, you aren't alone. After all, with a car that's such an American icon, we'd fully expect Chevrolet to unveil it here on our shores in either Chicago or New York. But according to Autoweek, GM is looking to boost export sales of its halo car, and since the C7 was engineered to compete with the world's best and brightest, showing it off in Geneva is somewhat of a smart move. What's more, those with sharp memories will recall that GM used the Geneva expo to debut the sixth-generation C6 Corvette convertible back in March 2004, so there's also a precedent.


Details surrounding the Corvette Stingray convertible are still slim, though we fully expect the 6.2-liter V8 and choice of either six-speed automatic or seven-speed manual transmissions to carry over unchanged. Prototypes spotted on the road showed the car fitted with a cloth convertible roof, as well.

The C7 Corvette Stingray coupe is expected to go into production in August, and Autoweek estimates production of the convertible to follow about three months later. The Geneva Motor Show kicks off on March 5, 2013, so stay tuned to this space for more information closer to that time.
---
By Steven J. Ewing
---
See also: 2014 Chevy Cruze Diesel destined for Chicago debut, Why does the Corvette Stingray have so many vents? Here's why, Read This: Auto Extremist advocates for Corvette as brand with multiple models [w/poll].