2014 Chevy Cruze Diesel destined for Chicago debut
Mon, 28 Jan 2013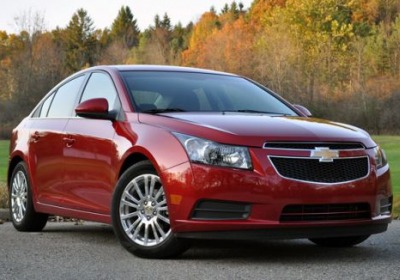 It's been a little over a year and a half since General Motors first confirmed plans to offer a diesel-powered Chevrolet Cruze here in the United States, and we've now learned that the oil-burning compact will debut under the lights of the Chicago Auto Show in February. According to GM Authority, the Cruze Eco-D will be introduced as part of the entire 2014 model year Cruze range, set to go on sale in the second quarter of this year.

Earlier reports have indicated that the diesel Cruze will be able to achieve fuel economy numbers in the range of 50 miles per gallon. For comparison, the similarly sized Volkswagen Jetta TDI is rated at 30/42 mpg city/highway, but as we found out in our long-term test of the 2011 model, hitting 50 mpg was a piece of cake.


Official specifications will be released at the time of the 2014 Cruze's unveiling, though reports have stated that the sedan will be powered by a reworked version of the 2.0-liter turbo-diesel inline-four found in the Holden Cruze CDX overseas. In that application, the four-pot oil-burner produces 160 horsepower and 265 pound-feet of torque – increases of 20 hp and 29 lb-ft over the 2.0-liter engine used in VW's Jetta TDI.

We've reached out to Chevrolet officials for confirmation but have yet to receive a response as of this writing. Stay tuned.
---
By Steven J. Ewing
---
See also: Why does the Corvette Stingray have so many vents? Here's why, Read This: Auto Extremist advocates for Corvette as brand with multiple models [w/poll], Artist imagines eerie world where cars have no wheels.