Cadillac teases camo'd ELR ahead of Detroit debut
Tue, 08 Jan 2013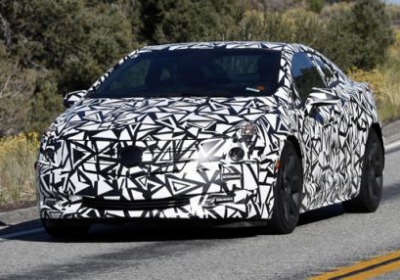 With the 2014 Cadillac ELR being introduced next week at the Detroit Auto Show, General Motors has revealed another picture of its luxury range extended electric vehicle. Last month, we saw a dark, teaser photo showing some of the body detail for the electric coupe, but this recent photo shows the Cadillac in full camouflage testing in California back in September.

If this car looks familiar, it's because our spy shooters got a jump on GM by catching the car in action and providing pictures from all angles. There are still no official details for the ELR yet aside from the fact that it will share the Voltec system with the Chevrolet Volt, but we'll finally see the car unveiled in Detroit a week from today.

Camouflaged Cadillac ELR Photographed in Testing
Luxury extended range electric vehicle to be revealed next week


2013-01-08

DETROIT – The Cadillac ELR electric vehicle with extended range, to be revealed January 15 at the North American International Auto Show, was photographed driving through the mountains of Southern California during development testing.

"Cadillac customers are going to enjoy the unique features ELR will bring to the market. We're going to change the way people think about luxury and electrification," said Chris Thomason, ELR chief engineer.

Cadillac has been a leading luxury auto brand since 1902. In recent years, Cadillac has engineered a historic renaissance led by artful engineering and advanced technology.
---
By Jeffrey N. Ross
---
See also: GM recalls full-size truck, SUVs and vans over faulty shifter mechanism, GM claims it's first to sell million 30+ mpg vehicles, Expect greater differentiation in GM's next-generation SUVs.