GM claims it's first to sell million 30+ mpg vehicles
Fri, 04 Jan 2013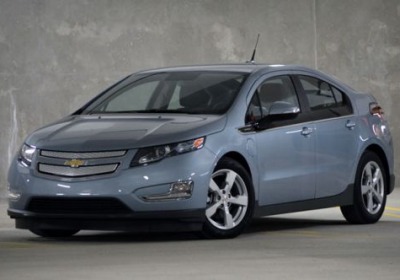 As we continue to put together all the data for the year-end edition of By The Numbers, General Motors has announced that it sold more than a million vehicles in the US last year that achieved at least 30 miles per gallon on the highway. More impressively, GM managed this feat using multiple strategies including small vehicle size, turbocharged engines and hybrid or plug-in technologies across four brands (Buick, Cadillac, Chevrolet and GMC) accounting for 13 separate models. This number will grow even more in 2013 thanks to cars like the all-electric Spark, the diesel Cruze, the range-extended Cadillac ELR and the Buick Encore compact CUV.

GM's small car sales were up 39 percent last year helping to attain this million-sales mark for 30-mpg models, and almost 40 percent of all GM sales consisted of cars with fuel-efficient I4 engines. In regards to more advanced means of improving fuel economy, GM says that it plans on having 500,000 vehicles with "some form of electrification" on the road by 2017.

Scroll down for the full list of GM's million 30+ mpg cars as well as an informative press release.

The list of GM's million 30+ mpg cars is composed of:

GM Sells 1 Million 30 MPG-Plus Vehicles in 2012
First U.S. automaker to achieve mark in EPA highway test cycle

2013-01-03

DETROIT – General Motors is the first U.S. automaker to sell more than 1 million vehicles in its home market in a single year that get an EPA-estimated 30 mpg or better on the highway test cycle.

"Our investments in advanced powertrains are clearly paying off, and our smaller vehicles are resonating with customers," said Mark Reuss, president of GM North America. "In 2013, we'll introduce new diesel, eAssist and plug-in vehicles in the United States and expand the availability of turbocharged four-cylinder engines.

"This will give us the most technologically diverse range of fuel-efficient cars and crossovers in the industry."

Thirteen GM vehicles have at least one high-volume model that achieves 30 mpg highway or more.
Vehicle EPA Est. Highway Fuel Economy
1. Chevrolet Spark up to 38 mpg
2. Chevrolet Sonic up to 40 mpg

3. Chevrolet Cruze up to 42 mpg
4. Chevrolet Volt up to 98 mpg/e
5. Chevrolet Malibu up to 37 mpg
6. Chevrolet Impala up to 30 mpg
7. Chevrolet Camaro up to 30 mpg
8. Chevrolet Equinox up to 32 mpg
9. Buick Verano up to 32 mpg
10. Buick Regal up to 36 mpg
11. Buick LaCrosse up to 36 mpg
12. GMC Terrain up to 32 mpg
13. Cadillac ATS up to 33 mpg

Source:
2013MY EPA Fuel Economy Guide

Four Chevrolet cars – the Spark, Cruze, Sonic and Volt – achieve 30 mpg or better in EPA combined city and highway driving.
Combined 2012 sales of GM's mini, small and compact cars are expected to be up about 39 percent, driven by the launches of the Spark and Buick Verano, and the ongoing success of the Chevrolet Sonic, Cruze and Volt.
About 40 percent of GM's vehicles by sales volume are powered by fuel-efficient four-cylinder engines – 10 percentage points higher than in 2010.
GM's two highest fuel-economy four-cylinder models are the 42-mpg Chevrolet Cruze Eco and the 40-mpg Chevrolet Sonic, both of which are powered by a turbocharged 1.4L ECOTEC engine mated to a six-speed manual transmission.
Chevrolet and Buick dealers delivered more than 50,000 vehicles that use advanced lithium-ion battery technology. Chevrolet Volt sales totaled more than 23,000 units, making the car the country's best-selling plug-in vehicle.


In 2013, Buick will launch the 33-mpg Buick Encore crossover, Cadillac will introduce the ELR extended-range electric vehicle and Chevrolet will expand availability of eAssist to include the all-new Impala. Chevrolet will also introduce a 2.0-liter clean diesel powertrain for the Chevrolet Cruze and a full-electric powertrain for the Spark.

The launch of the Spark EV will make GM the first company to build a complete electric motor and drive unit for a modern electric vehicle in the United States. By 2017, GM will have up to 500,000 vehicles on the road with some form of electrification, with a focus on plug-in technology.

GM will release its December 2012 sales today at 10 a.m. EST.

General Motors Co. (NYSE:GM, TSX: GMM) and its partners produce vehicles in 30 countries, and the company has leadership positions in the world's largest and fastest-growing automotive markets. GM's brands include Chevrolet and Cadillac, as well as Baojun, Buick, GMC, Holden, Jiefang, Opel, Vauxhall and Wuling. More information on the company and its subsidiaries, including OnStar, a global leader in vehicle safety, security and information services, can be found at http://www.gm.com.
---
By Jeffrey N. Ross
---
See also: Expect greater differentiation in GM's next-generation SUVs, Expect greater differentiation in GM's next-generation SUVs, Expect greater differentiation in GM's next-generation SUVs.