Amelia Island 2013: Chevrolet Corvette Sting Ray from concepts to split windows
Wed, 13 Mar 2013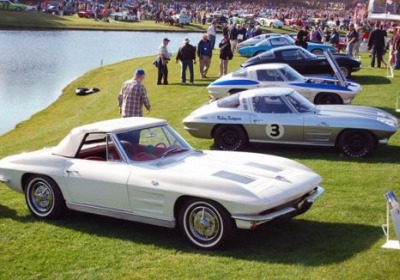 While this year marks 60 years of the Chevrolet Corvette, the 2013 Amelia Island Concours d'Elegance focused on one of the coupe's most sought after models, the 1963 Sting Ray. General Motors design boss Ed Welburn was on hand to show off the all-new C7 Corvette, but even the hard-edged styling of the 2014 Stingray couldn't take away from the beautiful 1963 models sitting out on the field.


In addition to the original Sting Ray and the 1959 Sting Ray Concept, some of the other classic 'Vettes included "Big Tank" racecars, an interesting cutaway coupe, a right-hand-drive Z06 and the attention-grabbing 1963 Corvette Rondine by Pininfarina. Another impressive Corvette was the 1964 Corvette XP-819 rear-engine prototype. Owner Mike Yager had the car finished as a driving chassis for this year's show, but promises the car will be back to its original glory in time for next year's event.
---
By Jeffrey N. Ross
---
See also: Watch NASCAR racer Jeff Gordon put one over on a used car dealer... sorta, NHTSA could add 1M cars to GM recall, Watch this creative way to pull a truck's engine.