Watch this creative way to pull a truck's engine
Fri, 08 Mar 2013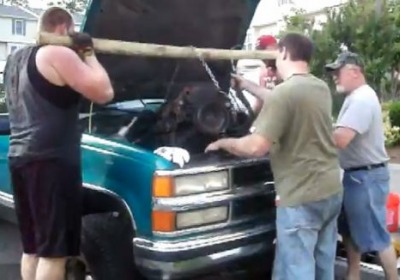 Living in an apartment complex has its benefits, but for shade-tree mechanics who like/need to work on their own cars, it definitely has a number of disadvantages. Relatively simple tasks such as brake jobs and oil changes are difficult when you don't have dedicated driveway space, to say nothing of more in-depth repairs... like pulling an engine, for example.

For these types of challenges, a little ingenuity and plenty of muscle are needed to get the job done. Scroll down to watch these four men snatch the V8 out of a Chevrolet K1500 using nothing but a chain, landscape timber and good ol' fashioned brute strength. Good work, gentlemen.


---
By Jeffrey N. Ross
---
See also: The story of the 2014 Chevrolet SS: "Luxury, power, refinement, handling", 2013 Chevy COPO Camaro announced with two new engines and manual option, Refreshed 2014 Camaro confirmed for New York debut.