2015 Ford F-150 to get 2.7-liter EcoBoost?
Mon, 30 Dec 2013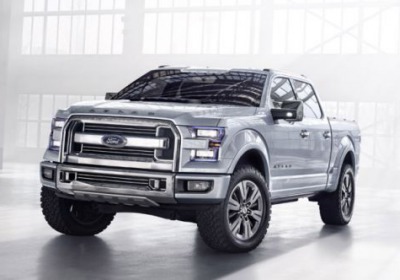 As we prepare for the arrival of the all-new, next-generation Ford F-150, rumors about the new truck are picking up steam. Naturally, many of said rumors aren't just related to the way the truck will look (it's expected to take design cues from the Atlas concept shown above), they're tied to what's going to motivate the Blue Oval mainstay, with Ford's EcoBoost range likely to play an increasingly key role. While we're still expecting the current 3.5-liter, twin-turbocharged V6 to retain its position as a premium alternative to Ford's naturally aspirated V6 and V8, a Canadian automotive news site is proposing that the Dearborn automaker is also preparing a new, more fuel-efficient downsized EcoBoost option.


Autos.ca is reporting that a new, 2.7-liter, twin-turbocharged V6 could find its way into the lighter, aluminum-intensive truck. The new engine supposedly makes use of asymmetrical turbos to generate 320 horsepower and 370 pound-feet of torque – substantially more impressive numbers than the current 3.7-liter base engine's 302 ponies and 278 lb-ft – while offering improved fuel economy and emissions. The new 2.7 EcoBoost (internally dubbed "Nano") isn't expected to supplant the naturally aspirated V6 as the F-150's base engine, it's expected to slot in above directly it.

Naturally, we're prescribing more than a few grains of salt to go with these rumors, at least until Ford debuts the next F-150 at the 2014 Detroit Auto Show, a reveal we'll be covering in a mere two weeks.
---
By Brandon Turkus
---
See also: Michigan museum offers Model T driving classes, Volkswagen could outsell GM in China for the first time in nine years, Ford files trademark application for 'Model E'.