2014 Mercedes-Benz S-Class interior caught in spy shots
Tue, 29 Jan 2013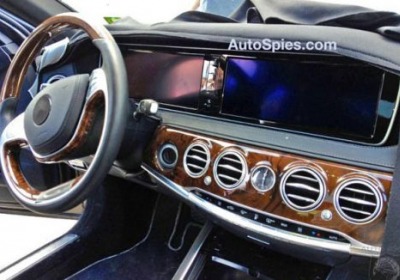 With the redesigned 2014 Mercedes-Benz S-Class getting closer to production, the camera-wielding crew over at Autospies somehow managed to get inside of the car to snap some detailed spy shots. As the prototypes continue to shed camouflage, it would appear that Mercedes-Benz is getting closer to unveiling the car, and with the Geneva and New York auto shows coming up, it could be sooner rather than later.

From what we can see of this car's interior, the overall look of the S-Class' cabin isn't a ground-breaking departure from the current car, but it has been completely redesigned with more advanced technology. The styling is now even more upscale with larger swaths of wood, more shapely door panels (without the built-in armrest cubbies) and the concept-like two-spoke steering wheel. The highlight of this car though is probably the two massive digital screens with one being used for driver information and the other used for navigation, audio and infotainment systems. One other detail we noticed about this car is that it was equipped with the new 360-degree camera that debuted on the new GL-Class and will also be used on the 2014 E-Class. We also know that the next-gen S-Class will be getting the new cloud-based MBrace2 infotainment system.


As for the exterior design, it looks like the next S-Class will carry a similar profile as the current car, but we can see through the camouflage that the new styling will fit in better with current Mercedes-Benz products. Up front, the grille is much larger is flanked by aggressive LED-trimmed headlights, while the rear view of the car shows us the LED brake light now at the top of the rear window, a more pointed trunk opening and a more squared-off rear fascia with exhaust outlets pushed to the corners.
---
By Jeffrey N. Ross
---
See also: Carlsson turns Mercedes-Benz SLK into 610-HP hill-climb clawer, Volvo S60 Polestar concept plays in the snow with Mercedes C63 AMG, Artist imagines eerie world where cars have no wheels.