Artist imagines eerie world where cars have no wheels
Thu, 24 Jan 2013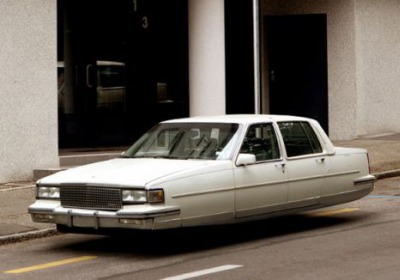 The wheel ranks right up there with the telescope and four-slice toaster in the pantheon of inventions that have moved humankind forward. But what if a circle in three dimensions had never occurred to anyone, and we all had just moved on without it? Perhaps we'd be driving around in Lucas Motors Landspeeders with anti-gravity engines. Or maybe we'd have the same cars we do today, just without wheels.

That's the thought experiment that seems to have led French photographer Renaud Marion to create his six-image series called Air Drive. The shots depict cars throughout many eras of motoring that look normal except for one thing: they have no wheels. The models used include a Jaguar XK120, Cadillac DeVille (shown above), Chevrolet El Camino and Camaro, and Mercedes-Benz SL and 300 roadsters.


Perhaps one day when our future becomes our past, you'll be able to walk the street and see with your own eyes the rust and patina of age on our nation's fleet of floating cars. Until then, Monsieur Marion's photographs will have to do.
---
By John Neff
---
See also: 2014 Chevrolet C7 Corvette wastes no time zooming into Jay Leno's Garage, Mercedes-Benz GLK coupe to get 2016 intro, Corvette Stingray Convertible images mysteriously appear on web, so we add our own.