Volvo S60 Polestar concept plays in the snow with Mercedes C63 AMG
Thu, 24 Jan 2013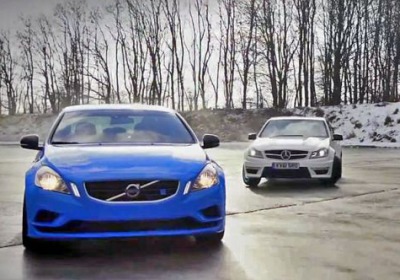 Chris Harris took to a snowy stretch of tarmac to get a fingertips-on-the-wheel feel of the Volvo S60 Polestar concept. Harris says the turbocharged sedan with 508 horsepower and 424 pound-feet of torque – and a manual transmission – is "a study to see if Volvo can get back into the fast-car market." The Polestar S60 concept, one of which was already purchased for $300,000 by a private buyer, is still making the publicity rounds because even Volvo's Chinese owners realize that, as Harris says, "Volvo sold more cars because it made fast cars" like the old 850 T5 Wagon that stormed the British Touring Car Championship in the 1990s.

For reference, Harris compares the blue wonder to the Mercedes-Benz C63 AMG and its 487 hp and 442 lb-ft. The question is, were Volvo to get the price of a production version of the S60 Polestar to climb way down from its 200,000-pound sticker, could it be worthy competition to the established giants?


You can watch Harris divine the answer via a lot of drifting through the snow and a drag race in the video below.


---
By Jonathon Ramsey
---
See also: Artist imagines eerie world where cars have no wheels, Volvo S60, XC60 caught testing with freshened faces, Autoblog Podcast #317.