2014 Chevrolet Impala [w/video]
Fri, 15 Mar 2013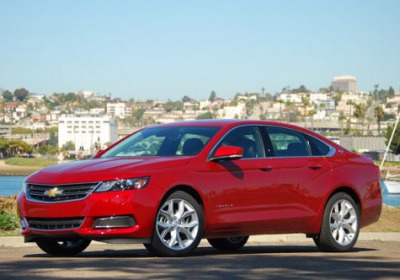 Can A Fleet Queen Become a Fullsize King?

On paper, the Chevrolet Impala is a pretty strong seller, posting annual sales that have hovered right around 170,000 units for the last two years, but it only takes one trip to practically any rental car agency to discover where the majority of those sales have come from. In fact, General Motors told Autoblog that a full 70 percent of Impala sales last year went to fleet companies for things like rental cars and government vehicles. Logic tells us that this is neither good for resale values nor name equity, so Chevrolet is getting ready to roll out an all-new Impala with improved comfort, styling and technology, hoping to turn the tables on its retail-to-fleet ratio.

Chevrolet's sedans have come on quite strong in the last few months with the introduction of the Cruze diesel and the SS sedan, but while these will likely be low-volume sellers, there's more pressure for the new Impala to perform well as GM looks to slash fleet sales and compete with the wide variety of full-size sub-luxury sedans. Riding on a platform shared with the Buick LaCrosse and Cadillac XTS, the 2014 Impala will compete against the Hyundai Azera, Ford Taurus and Toyota Avalon on the more traditional side, while also looking to take a bite out of somewhat sportier models like the Chrysler 300/Dodge Charger twins and the Nissan Maxima. We headed to sunny San Diego to see if this totally new Impala can stand on its own without the assistance of fleet companies and rental agencies. [w/video


Chevy expects this mid-level LT trim to be the volume seller.
Although the new-look Impala hasn't won over the entire Autoblog crew just yet, it's an undeniable improvement over the past two generations of the big sedan. As safe as Chevy played its hand with its recent Malibu redesign, we are pleased to see that the Impala has received a completely modern wardrobe. The car we drove was the mid-level LT trim, which Chevy expects to be the volume seller, so while we missed out on trendy add-ons like LED daytime running lights and the integrated exhaust outlets from the top LTZ trim, there was still plenty to appreciate about its design.

The broad grille and narrow headlights were purposefully designed like that to give a wider appearance, while the sculpted hood adds an athletic shape. Twenty-inch wheels are available on the LTZ, but the 19s that came on our LT definitely seemed to fit the overall look of the new Impala. One element carried over from recent Impala designs is a lower beltline that rises sharply behind the rear door to create an arrow-shaped quarter window.


It will be interesting to see what the Impala's base interior looks like.
At some angles (especially in profile), Chevy's efforts to maximize aerodynamics and interior volume has resulted in some odd proportions and a massive rear overhang, but in a class full of competitors that have only recently started to push the limits of design, the new Impala has a great look to it. One minor disappointment is the lack of available LED taillights that would have added some style in the rear, but the Impala's rump is far from bland with a short, shapely decklid and our tester's optional rear spoiler. Chevrolet paid close attention to the details, including the use of brushed aluminum trim around the windows and small Chevy Bowtie emblems etched into the headlight. One could even argue that the arched rear fenders are somewhat reminiscent of the original 1958 Impala.

GM's design team hit a home run inside the new Impala, seemingly focusing on correcting the shortfalls present in the Malibu by creating a nearly flawless cabin. Buyers looking for a bench-seat Impala be the only people who are disappointed by this interior. Chevy's dual-brow instrument panel is definitely the focal point of the interior, which in LT form adds stitched leather accents to the gauge hood and along the top edge of the dash. Chrome accents provide some added dimension to the dash, which can be equipped with blue backlit ambient lighting that is invisible during the day provides soft, subtle lighting at night. The shape of the instrument panel's chrome strip was mimicked on the new four-spoke steering wheel, which has a refreshingly small number of buttons on the front of it by adding the audio controls to the backside of the wheel à la Chrysler. It will be interesting to see what the Impala's base interior looks like – our Impala LT tester was blessed with with dark leather on the seats with suede inserts (the latter part of a $945 premium seating package).


Headroom and legroom have stretched by a remarkable 3.5 and 2.2 inches.
More than just a stylish environment, the new Impala provides plenty of space for five occupants. Compared to the departing model, the 2014 Impala has had its headroom and legroom stretched by a remarkable 3.5 inches and 2.2 inches, respectively, giving this Chevrolet interior dimensions that are almost identical to the Impala's fancier cousin, the Cadillac XTS. Including a GM representative, our tester spent the entire day with three occupants, which provided plenty of rear-seat time. At over six feet tall, your author had no problem with legroom and was even able to cross legged. The only downsides of riding in the rear are foldable headrests that are positioned too far back to be entirely useful and the center armrest, which is perfectly cushioned toward the rear but has an uncomfortably hard plastic cup holder at the leading edge.

In terms of interior technology, the highlight is Chevy's next-generation MyLink system. Derived from Cadillac's CUE, the new MyLink provides new ways to connect and customize while doing away with many of the capacitive touch issues that plagues the Cadillac interface. For starters, there are 10 hard buttons and knobs that act as redundant controls. Chevy has also added features like 3D mapping, Bluetooth pairing for up to 10 devices, better voice recognition with natural speech commands, four different background/button themes and a configurable home screen with five customizable top buttons and up to 60 "favorite" buttons (for phone numbers, navigation destinations and audio settings such as stations, artists, albums or genres). The coolest feature might be the new valet mode that uses a four-digit code to lock out the vehicle's MyLink and information systems. The large center screen (which has a storage cubby beneath) is complemented by a 4.2-inch digital screen inside the gauge cluster. The latter is controlled by a five-way button on the right side of the steering wheel, and it displays infotainment and vehicle information to the driver in a clear and easy manner.



We drove the car with the engine that customers will see first, the 3.6-liter V6.
The new Impala also has three USB ports, an SD card slot and, in the "What took so long to figure this out?" category, the navigation operations and Bluetooth pairing can take place while driving when there is a passenger in place – with the assumption that drivers will not be doing the work. There are still some sluggishness issues with the latest MyLink, as well as the fact that some of the screen colors are not easily seen on various backgrounds, but GM promises a fix for the latter before the car goes on sale.

Eventually, the 2014 Impala will offer a base 2.5-liter inline four-cylinder engine as well as a 2.4-liter eAssist mild hybrid model, but for this test, we drove the car with the engine that customers will see first, the 3.6-liter V6. This direct-injected engine is the essentially the only part carried-over from the 2013 Impala, but its output has been tweaked ever so slightly, raising horsepower and torque to 305 hp and 264 pound-feet (up from 300 hp and 262 lb-ft.). Unlike the closely related XTS, the Impala will not offer all-wheel drive. Instead, the front wheels are powered through a six-speed automatic transmission. Weighing in at 3,800 pounds, the Impala V6 should have a good balance of fuel economy (with estimates of 19 miles per gallon in the city and 29 mpg on the highway) and acceleration, which GM claims will take just 6.8 seconds to reach 60 miles per hour.


It is just plain impressive how library quiet the interior is.
Before we even had a chance to bring the engine to life, the solid "thud" of the closing door also brought with it a calming silence inside the Impala, even as big trucks and city traffic whizzed by. GM proudly explained the Impala's quiet interior, calling out its additional door seals, acoustically treated front and side windows and the strategic placement of sound deadening, but on the road, it was just plain impressive how library quiet the interior is regardless of vehicle speed or road conditions. Models equipped with the four-cylinder engine will also get Active Noise Cancellation technology, so they'll have a shot at being serene, too. Another noticeable enhancement was the Impala's taut body structure. Driving along some bumpy roads and crossing transitions in downtown San Diego, very little noise or vibration made it inside.

Once outside the city, our driving route provided a good mix of twisty roads and wide-open Interstate driving, and while the Impala is no canyon carver, it was at least up to the task of allowing us to have a little fun. Despite its size, acceleration proved ample at just about any speed, and braking was impressive thanks to big, GM-patented rotors that are resistant to rust and warping (they're expected to last twice as long as current GM rotors). At slower speeds, we did notice that the electric power steering felt a little jerky, but it smoothed out to become fairly responsive at highway speeds. Even driver visibility was better than what we've come to expect from some of today's fullsize sedans. Just in case, however, the 2014 Impala offers options including forward collision warning, rear cross traffic, lane departure warning and blind spot detection. We did have a chance to drive another car with the available adaptive cruise control, which is easily identifiable by unique front grille that integrates a massive black insert with a sensor that allows the car to automatically brake all the way down to a full stop.


The new Impala has not only grown in size, but also in price.
With advanced features like this, the new Impala has not only grown in size, but also in price. Starting almost $3,000 more than where the 2013 model started, the 2014 Impala has a base MSRP of $27,750 in LS trim, but this model won't be available until later in the year. In a reverse of how the 2013 Malibu was launched (with just the hybrid Eco model available initially), Chevrolet will introduce the new Impala based on expected volume, which means the V6 will launch first in LT and LTZ trims. LT models start at $30,760, but with our tester's options, it carried an as-tested price of $35,115.

When the 2014 Impala goes on sale next month, sales will likely take a substantial dive from the fleet-heavy numbers of recent years, but GM will at least be replacing volume with quality. If you're a rental car agency or a fleet manager for your company, though, don't fret. GM isn't going to cut you off cold-turkey. The outgoing generation of Impala will live on for another year as the Impala Limited (a similar move Chevrolet has done in the past with the Malibu and Silverado), but its eventual departure will mark the end of the road for GM's W Body, a platform that dates back to the late 1980s.

It isn't clear which (if any) vehicle will replace the Impala for fleet customers in 2015, but along with the performance-oriented SS sedan and a sooner-than-expected refresh for the Malibu, the all-new Impala could very well give Chevrolet its strongest, most competitive retail sedan lineup ever.


Vital Stats
Engine:

3.6L V6

Power:

305 HP / 264 LB-FT

Transmission:

6-Speed Auto

0-60 Time:

6.8 Seconds

Drivetrain:

Front-Wheel Drive

Curb Weight:

3,800 LBS

Seating:

2+3

Cargo:

18.8 CU-FT

MPG:

19 City / 29 HWY (est.)

Base Price:

$30,760

As-Tested Price:

$35,115

Research the 2014 Chevrolet Impala »
---
By Jeffrey N. Ross
---
See also: General Motors shaking up its marketing... again, Amelia Island 2013: Chevrolet Corvette Sting Ray from concepts to split windows, Watch NASCAR racer Jeff Gordon put one over on a used car dealer... sorta.