2014 Chevrolet Corvette Stingray Convertible is a Swiss hit
Mon, 04 Mar 2013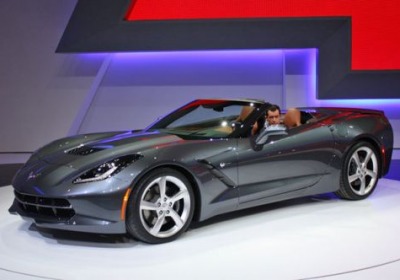 We've just received an early peek at the 2014 Chevrolet Corvette Stingray Convertible here at the Geneva Motor Show. General Motors was kind enough to let us attend the final dress-rehearsal for its press conference scheduled for tomorrow's opening media day, and we've come away with a good look at the droptop C7 in person.

In the metal, the new Corvette Convertible seems somehow less avant-garde than the Coupe, even in Z51 Performance Package guise. That's not necessarily a bad thing – more of an observation. That initial impression may be because the C7's new greenhouse is one of its most prominent departures from Corvettes past. While we didn't get to see the top erected, there's no rear side window in the stock images that Chevy has already released, suggesting the C7 convertible's profile will look a lot like its C6 predecessor. And with the new power tonneau cover in place, there are also no rear ducts that come as part of the Z51 package (they've been moved under the car).


As with its predecessor, the tonneau is a handsome double-bubble piece, and the body-color "waterfall" element into the cabin between the seats has made it to the new model as well. Thus, the overall look with the top down should be a bit more familiar to prior-gen C6 owners – if you're one of those put off by the C7's new shape, you'll probably appreciate the convertible bodystyle more than the coupe.

Chevrolet has so far not given any further information on the model to share, but we do know that the electronically operated top is now fully automatic with a push of the rocker switch mounted to the left of the steering wheel – no more monkeying with the windshield header t-bar manual release before having the power mechanism do its thing. In addition, Susan Docherty, president and managing director of Chevrolet Europe, confirmed during her presentation run-through that the top will raise or lower at speeds of up to 50 kilometers per hour (31 miles per hour). No word yet on things like drag coefficient, weight penalty, pricing or availability, but Chevy plans to release more information tomorrow, so stay tuned. Until then, check out our new gallery of live images.
---
By Chris Paukert
---
See also: 2014 Chevrolet Corvette C7 Convertible offers a few more views before reveal, 2014 Chevrolet Corvette Stingray Convertible gives us a couple of looks, Final C6 Corvette built in Bowling Green.