2014 Chevrolet Corvette C7 Convertible offers a few more views before reveal
Mon, 04 Mar 2013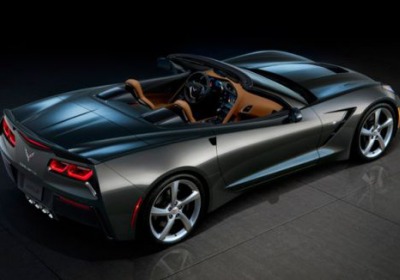 Over the weekend, Chevrolet released its first images of the new 2014 Corvette Stingray Convertible. Now, ahead of the droptop's official introduction tomorrow at the Geneva Motor Show, the automaker has given us a few more shots of the softop C7 showing off the car's rump albeit from a high, strategically positioned angle.

From this angle, it's hard to get a sense for how long and flat the decklid really is, but we can easily see that, like the rest of the C7's design, the new convertible's decklid and tonneau cover are far more detailed than the current car. We also get a better look at the rear haunches sans brake vents, which have apparently been moved to underneath the car in order to accommodate the top's hard cover.


As for the overall styling of the C7 convertible, with the top erected, we get some idea of what a coupe design (as opposed to the Stingray's fastback shape) would look like on this car. The C5 Corvette most recently had a coupe model that did away with the large glass hatchback, and we recently reported on a low-cost "coupe" model potentially being added to the C7's repertoire.

For that, as well as official details and specs for the 2014 Corvette Convertible, we'll all have to wait until tomorrow, but we'll be sure to bring you all the information and plenty of live images straight from the show floor.
---
By Jeffrey N. Ross
---
See also: 2014 Chevrolet Corvette Stingray Convertible gives us a couple of looks, Final C6 Corvette built in Bowling Green, Vert-A-Pac train cars kept your Chevy Vega's price in check.