2014 Chevrolet Corvette Stingray Convertible gives us a couple of looks
Sat, 02 Mar 2013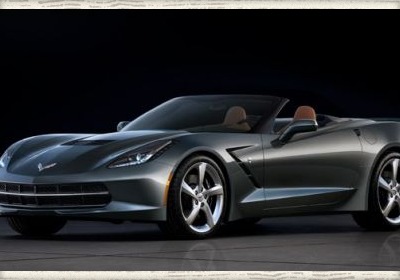 Put away your pixel paintbrushes, kids. Pack up your Photoshop. This is the real-deal 2014 Chevrolet Corvette Stingray Convertible in its first official images. The droptop Chevrolet will roll into the bright lights of the Palexpo exhibition at next week's Geneva Motor Show, a four-wheeled statement of intent that General Motors is serious about taking its Corvette franchise global.

Chevy isn't providing anything in the way of further details with these two shots, but we've learned at least a couple of things about the car shown here. First off, the example seen in these images is fitted with the optional Z51 Performance Package – something that isn't immediately evident because there's no sign of the coupe model's prominent ductwork on its rear haunches. In order to accommodate the power folding hard tonneau cover, the vents that feed the transmission and differential coolers have been relocated to the underside of the car. The dark paint color on this example also does a good job of muting the contrasting black front fender vents and hood opening – Z51-spec design details that have proven to be somewhat controversial.


One other thing to note: These two shots also display the Stingray wearing different alloy wheels than the split five-spoke design shown at the hardtop's Detroit Auto Show unveiling in January. The simpler, thin five-spoke wheels should do a good job of showing off the Z51's upgraded brakes, and they'll be optional on the coupe as well.

Sit tight – we'll have more images and details on the C7 Convertible for you early next week, including live photos and impressions from the show floor in Geneva.
---
By Chris Paukert
---
See also: Final C6 Corvette built in Bowling Green, Vert-A-Pac train cars kept your Chevy Vega's price in check, Chevrolet donates 300 vehicles damaged by Sandy to help train first responders.