Vert-A-Pac train cars kept your Chevy Vega's price in check
Fri, 01 Mar 2013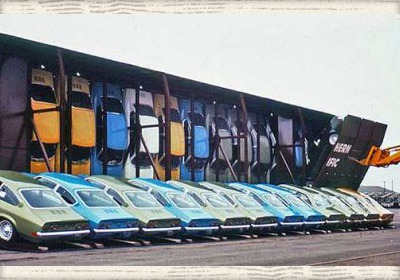 Our apologies to those who've seen this before, but for the rest of the class, how awesome are these pictures of the Vert-A-Pac shipping system General Motors came up with to ship the Chevrolet Vega back in the 1970s? Developed along with Southern Pacific Railroad, GM was able to double the amount of Vega models it could ship by packing them into the unique storage cars vertically.


At the time, rail cars could fit 15 vehicles each, but Chevrolet was able to lower shipping costs by making it possible to ship 30 Vegas per rail car, in turn allowing the price of the Vega to remain as low as possible. Each rail car had 30 doors that would fold down so that a Vega could be strapped on, and then a forklift would come along and lift the door into place. All the cars were positioned nose down, and since they were shipped with all of their required fluids, certain aspects had to be designed specifically for this type of shipping, including an oil baffle in the engine, a special battery and even a repositioned windshield washer reservoir. See for yourself in our image gallery above.
---
By Jeffrey N. Ross
---
See also: Chevrolet donates 300 vehicles damaged by Sandy to help train first responders, More Corvette Stingray Factoids: Vanishing panel gaps and 26-mpg LT1, Why the Corvette is Chevrolet's billion-dollar baby.