2014 Chevrolet C7 Corvette wastes no time zooming into Jay Leno's Garage
Thu, 24 Jan 2013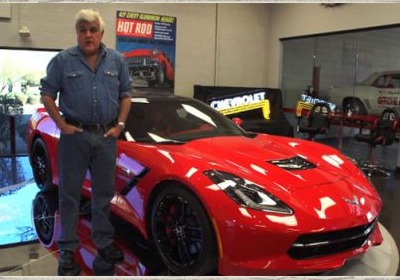 Where else would you expect the 2014 Chevrolet Corvette Stingray to show up first? Although this time it isn't exactly in Jay Leno's Garage, Leno instead playing an away game at Brown's Classic Auto in Scottsdale, Arizona. Nor does Leno drive the car, instead taking an 11-minute walkaround of the new American sports car with General Motors design head Ed Welburn, the same man who recently brought by a string of classic Corvettes to the talk show host's California compound.

It is, admittedly, a love-fest for the American sports car now featuring 450 horsepower and 450 pound-feet of torque, but one that also features admissions about previous Corvette seats like "they were kinda rough," and the explanation that labeling the coupe "Stingray" means not having to call it "the base Corvette." On top of that, Welburn also explains the proper application of the term "dashboard." You can watch it all in the video below.



---
By Jonathon Ramsey
---
See also: Corvette Stingray Convertible images mysteriously appear on web, so we add our own, 2014 Chevrolet Silverado tows in new configurator, microsite, GM recalls Chevy Express, GMC Savana over rollaway concern.