2014 Chevrolet Silverado tows in new configurator, microsite
Mon, 21 Jan 2013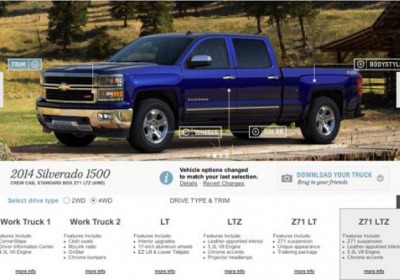 Judging by your continued enthusiastic response to configurator notices, dear reader, you enjoy speccing out new cars as much as we do. Better still, there tends to be even more ways to personalize, configure and bloat theoretical MSRPs on full-size trucks as there are with more ordinary passenger cars. In addition to trim level, engine and transmission choices, truck buyers usually have to specify items like cab configuration, bed length, number of driven axles, tow packages, gear ratios and all sorts of bits and bobs.

That's why we're pleased to see the DIY specification utility for the 2014 Chevrolet Silverado come alive so soon after this week's Detroit Auto Show debut. While the configurator lacks pricing (General Motors hasn't announced numbers yet) and full options, you can still spec out your half-ton rig, and even print it out or email it to your friends. Beyond the configurator, the new model-specific site is pretty cool, too, with various videos and closer looks at the truck's new features.


The new Chevrolet pickup range won't be on dealer lots until sometime this summer, so whether you're a building contractor, an avid sportsman or just a guy or gal that loves full-size trucks, you might want to check out the link below to keep your appetite whetted. If you're more of a Sierra fan, well, it looks like you're going to have to wait a while – GMC hasn't updated its site yet.
---
By Chris Paukert
---
See also: GM recalls Chevy Express, GMC Savana over rollaway concern, GM recalls Chevy Express, GMC Savana over rollaway concern, 2014 Chevrolet Silverado and GMC Sierra show all their sides in Detroit.