Infiniti teases G-replacing Q50 ahead of Detroit debut
Fri, 28 Dec 2012 16:30:00 EST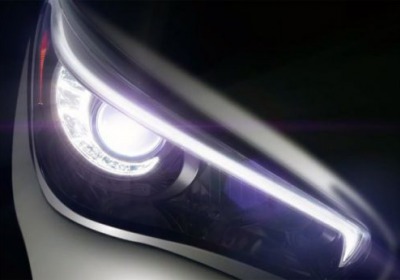 Preparing for the introduction of its new naming system and redesigned entry-level sedan, Infiniti has released a brief teaser video for the 2014 Q50. As a refresher, the Q50 is the replacement for the G37 sedan, and while we've seen spy shots of this car before, this video is our first detailed look at the production car.
All we get to see in the video is a shot of the headlight, but we get to see key elements like the stylish daytime running lights, crescent-shaped parking lights and adaptive low beams. The overall shape of the headlight is very close to what we saw earlier this year on the LE Concept. We have to wait until the Detroit Auto Show kicks off in a couple weeks to see the Q50's full design (although we're sure there will be some leaks before that point), but until then, check out the short video posted after the jump.
---
By Jeffrey N. Ross
---
See also: Infiniti confirms new "premium compact" to be built in UK, Infiniti takes to Facebook to explain model names, mentions 550-hp flagship, J.D. Power: Mini, Lexus again offer most satisfying sales experience.