Fiat's Marchionne ponders Chrysler going public again
Mon, 04 Mar 2013 09:27:00 EST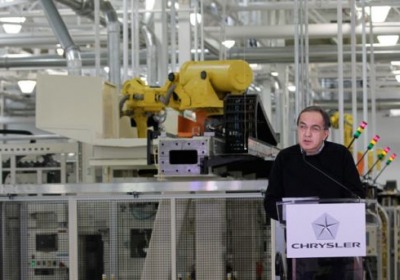 Fiat boss Sergio Marchionne says there's a real possibility that its majority-owned Chrysler Group may eventually return to the ranks of publicly traded companies. According to Bloomberg, the Fiat and Chrysler CEO gives that a "50 percent chance" of happening, but he doesn't appear to favor that scenario: "My preference is to be one single company... we belong together."

Marchionne has seemingly been operating under the assumption that Fiat will eventually own all of Chrysler, working to buy up the shares it doesn't own and looking to buy out the retiree trust fund that it shares Chrysler ownership with. Certainly, Chrysler going independent again would be increasingly difficult, as the companies continue to blend products, technologies, facilities and staffing, a trend started immediately after the Italian automaker became custodian of the brand following Chrysler's bankruptcy in 2009.

Marchionne's remarks to the media came at Chrysler's Kokomo, Indiana plant, where he was on hand to announce a major investment at four facilities in the state to build eight- and nine-speed automatic transmissions.
---
By Chris Paukert
---
See also: Jeep Wrangler diesel likely after 2015 model refresh, Small number of 2013 Chrysler 200 and Dodge Avenger models recalled, Chrysler 100 hatchback caught cruising around Santa Monica.