Chrysler 100 hatchback caught cruising around Santa Monica
Thu, 21 Feb 2013 19:29:00 EST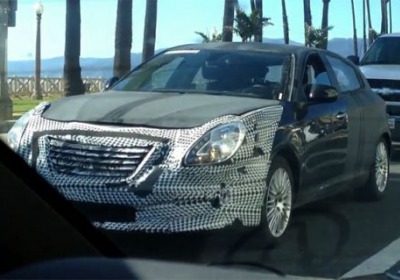 A coming hatchback said to be called the Chrysler 100 has been caught on video traipsing around Santa Monica by Autoblog reader Zach Dillman. Still wearing the scrapyard assemblage of Alfa Romeo Giulietta body panels as it was when spy photographers began capturing it last summer, its arrival date is still a question mark: some outlets have reported that it will go on sale this year, others have said it won't be in showrooms until 2016.

In fact, quite a few questions remain. Based on Fiat's Compact US Wide (CUSW) platform that supports the Dodge Dart and expected to be about the same size, the 100 is thought to be a small premium hatchback that will be priced above the Dart and below the Chrysler 200, with the idea that it can challenge the Ford Focus and Hyunda Elantra at the value end and the Buick Verano and Acura ILX at the premium end. Word is that there will be no sedan version.

It looks like there'll be plenty of gewgaws inside, with buttons for Adaptive Cruise Control, Lane Departure Warning, Forward Collision Warning and a button to toggle the traction control.

Some rumors say the 100 will only get four-cylinder engines, other rumors suggest it could get a V6 to justify the premium aspirations and the price bump over the Dart, and an "E85 Only!" sticker spotted in one of the mules last summer has other rumormongers wondering if it will get a ethanol-capable version of a new powerplant that isn't the 3.6-liter Pentastar V6. It looks like there will be paddleshifters for getting through the gears, and front-wheel drive is the easy bet, all-wheel drive the long-shot shocker.

At the end of the video, a second mule gets spotted in Santa Monica, this being one of a legion of jacked-up Franken-Giulietta mules that's been seen around the country for a while now. It could be either a new Jeep Liberty mule or a replacement for the Compass/Patriot. See for yourself in the videos below.


---
By Jonathon Ramsey
---
See also: Chrysler recalling 278,222 trucks and SUVs over bad rear axles, Fiat talking with banks about buying rest of Chrysler, Treasury says auto bailout tally drops to $20.3 billion.