Facelifted Hyundai ix35/Tucson shows up
Fri, 01 Mar 2013 16:33:00 EST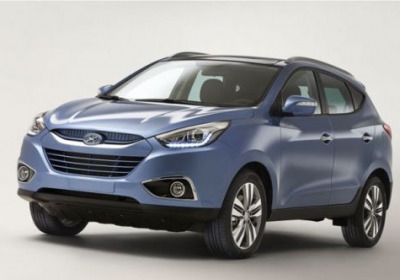 It looks as though Hyundai has readied a facelifted version of its ix35 crossover (known as the Tucson here in the U-S-of-A) for the Geneva Motor Show next week. While we haven't been able to get the Korean automaker to cough up the official details – or more than one image – reports indicate that the new Euro CUV will get revisions to the engine lineup, technology offerings and more.

The Hyundai's sheetmetal has been nipped and tucked from the looks of the photo, with bolder, bi-xenon headlamps and LED running lights the most obvious alterations. Inside we're told to keep an eye out for improved materials and a new, larger TFT infortainment control screen.

Expect clearer intel about both the ix35 and the home-market Tucson no later than next week, and most likely a bit earlier.
---
By Seyth Miersma
---
See also: Hyundai recalls 6,071 more Velosters over shattering sunroofs, Next Hyundai Genesis caught shooting through the snow... with all-wheel drive?, 2013 Hyundai Veloster Turbo: February 2013.