2013 Hyundai Veloster Turbo: February 2013
Mon, 25 Feb 2013 14:57:00 EST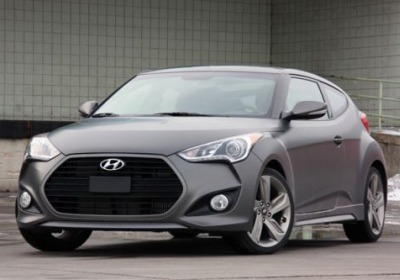 I just couldn't bring myself to lead this post with the image you see on the right. The winter months have not been kind to our matte gray 2013 Hyundai Veloster Turbo, and since you can't just run the thing through your local car wash, our oddly shaped little hatchback has spent more days dirty than clean. It breaks my fleet manager heart to see one of our test cars covered in schmutz so frequently, but let's be honest – the last thing anyone wants to do when it's 12 degrees Fahrenheit outside is play with a hose and spend a good amount of time hand-washing a car.

Moral of the story: If you live in a cold-weather state where you expect to get regular doses of the white stuff, matte paint probably isn't for you. Not to worry, though, as the Veloster Turbo is offered in plenty of pretty, car wash-friendly colors.

We'll have a lot more to talk about regarding the Veloster's cleanability in forthcoming updates, and we're even planning a trip to the Dr. Beasley's office – the company that created the special matte paint detailing kit for the Hyundai – to have their experts show us how it's done. For now, let's spend some time talking about what we've learned about the turbocharged hatch during its honeymoon phase here in the Autoblog Garage.

As a daily driver, the Veloster Turbo is a pleasant little thing – easy to use while bobbing around town and comfortable enough to not warrant complaint after longer stints behind the wheel. Plus, moving or standing still, this car turns heads like you wouldn't believe. Even to my trained eye, I often find myself doing a double-take when I've parked the car for the night, just to look back for one more glance. I even got two hearty thumbs-up from fellow Velosters driver (base cars) out on the road. That three-door configuration has proved to be fairly functional thus far – not so much for passengers (ingress and egress is easier than a normal coupe, but less useful than a traditional four door), but having an extra door to throw things in the rear seat is incredibly useful. All good things in terms of the overall package.


Our team is already having debates about a few of the Veloster's driving aspects.
During one leg of an already long weekend of driving, a friend's six-year-old kid was riding along in the back seat. When he got into his car seat, without even being asked, he said, "It's not big enough for my head." In other words, there's not a lot of rear head room in the Veloster.

Only a few of us have driven the Veloster as of this writing, but we're already having debates about at least one of the Veloster's driving aspects. For example, I find the six-speed manual shifter of our test car to be pretty objectionable in terms of overall user engagement – I think the throws between gears are short, sure, but the act of moving the stick isn't pleasing. It's notchy, and not in a good way, and the short, stubby stick feels flimsy. It's noisy when clicking between gears, too. I seem to be the only person having this issue, however, as senior editor Seyth Miersma has now called me an fool on several occasions – he praises the Veloster's 'box, citing short throws and solid engagement. I'll be curious to see how the rest of the staff regards it as the months progress.

One issue, though, is that there's a lot of wind noise inside the cabin while driving on the highway – enough so that when my phone rings via Bluetooth and I'm driving above 60 miles per hour, I feel like I have to shout just so the person on the other end can hear me above all the racket. I recently had a phone conversation with editor-in-chief John Neff while driving the Veloster, and he noted that he could barely hear me over all the racket. Some of the issue could also be placement or quality of the mic, too.


We're averaging 26.8 miles per gallon in relatively mixed cold-weather driving.
Since the car's delivery in mid-January, we've added just over 2,500 miles to the odometer and according to our handy-dandy logbook, we're averaging 26.8 miles per gallon in relatively mixed cold-weather driving. That's slightly lower than the EPA-estimated 28 mpg combined rating (24/35 city/highway), but quite admirable considering how enthusiastically we tend to drive. We'll see how that changes over the coming months.

Next up on the Veloster's docket: A few weeks down in Ohio with boss man John Neff. Stay tuned for his thoughts in next month's update, and keep your eyes locked on our Facebook and Twitter feeds for on-the-fly impressions.

Sebastian Blanco contributed to this story.
---
By Steven J. Ewing
---
See also: Ford, Toyota clean up in Best Car For The Money Awards, Hyundai Elantra's alleged unintended acceleration sends teen, police on a 113-mile ride, 2013 Hyundai Sonata Hybrid gets bigger, better battery pack, lower MSRP.