Next Hyundai Genesis caught shooting through the snow... with all-wheel drive?
Tue, 26 Feb 2013 17:32:00 EST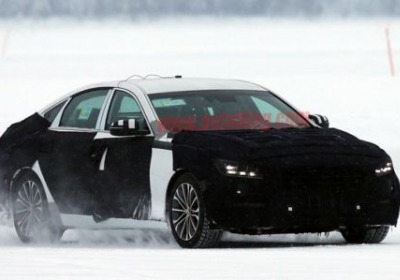 Hyundai is still working on getting its next-generation Genesis sedan ready for production, and while these spy shots don't reveal much more of the car's new design than what we saw back in December, our spy photographer did manage to catch an important detail being added to the big sedan. In addition to its rumored 10-speed automatic transmission, it looks like the new Genesis could get an all-wheel drive system based on a sticker in the rear window that says "4WD AT." This would make sense, too, as the car was caught testing in snowy and icy Northern Sweden.

Another new element of the car visible in these pictures is our first look at the car with its LED headlights illuminated giving the front end a more upscale and dynamic look. In terms of its overall appearance, the new Genesis is expected to take some design elements from the HCD-14 Genesis Concept that Hyundai revealed last month at the Detroit Auto Show. There is still no official word, though, as to when we may see the new Genesis unveiled.
---
By Jeffrey N. Ross
---
See also: 2013 Hyundai Veloster Turbo: February 2013, Ford, Toyota clean up in Best Car For The Money Awards, Hyundai Elantra's alleged unintended acceleration sends teen, police on a 113-mile ride.