2014 Nissan Rogue
Fri, 01 Nov 2013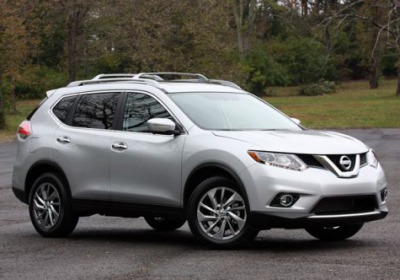 When I first started in this whole automotive journalism biz, I held a sort of hodgepodge receptionist/gopher/production assistant role, and each morning as the staff filed in, I'd ask them how they liked whatever car they were assigned to drive the previous night. Most of my colleagues would regale me with anecdotes about how good or bad a vehicle was, but one co-worker, every single morning, would answer my query with the exact same phrase: "It was fine."

I always assumed this was just a brush-off, an "ask me again after I've had a cup of coffee" sort of response. But then I found myself in a similar moment of brevity following the launch of the 2014 Nissan Rogue earlier this week. After returning home, a friend asked me what I thought of the new Rogue, and I replied, word for word, "It was fine."

And, well, it was. Nothing worth wasting exclamation points over, good or bad. Aside from something like the interesting-to-drive Mazda CX-5 or funky-looking Jeep Cherokee, nothing in this class really tries to set the world on fire. And that, right there, is fine. Nissan doesn't need to do anything crazy with its second-generation Rogue. It just needs to offer a well-equipped crossover that's handsome, functional, efficient and priced right – sticking to the same formula that made the first-generation model so successful while offering the latest crop of creature comforts in a more modern package.

The 2014 Nissan Rogue checks all of these boxes. And it's fine. Mighty fine.




The Rogue itself is now a global vehicle, serving as the Americanized twin of the Nissan X-Trail.
While most small crossovers simply ride on lifted versions of existing small car building blocks, Nissan has employed an entirely new platform here in the Rogue. And it's a global platform, too – the company's Common Module Family (CMF) architecture is shared with French automaker Renault and will eventually be used to underpin a host of vehicles around the world. The Rogue itself is now a global vehicle, serving as the Americanized twin of the Nissan X-Trail that will be sold in other markets.

Whereas the previous Rogue was sort of a round, dumpy little thing, the new model is handsome, with character lines and styling elements to tie it in with the brand's latest crop of product. It looks, quite simply, like a de-conceptualized version of the 2012 Hi-Cross show car. At 182.3 inches long, the new Rogue is a full inch shorter in overall length than the 2013 model, though the wheelbase is over half an inch longer. This new version is also wider (72.4 inches, up from 70.9) and taller (67.5 versus 66.3) than its predecessor.

All Rogue models come standard with LED running lamps up front and full LED headlamps are available on higher-grade models. Entry-level trims come standard with relatively attractive 17-inch wheels, and the high-end SL trim, seen here, uses 18-inch rollers nuzzled inside P225/65R18 Dunlop Grandtrek all-season tires.



Some folks on staff aren't in love with the new Rogue's design, saying it isn't as cohesive as the last-generation model. I disagree – the front and profile look great, though there's some awkwardness to the rear end. The Lexus-like taillamps just don't look quite right, though the light signature works well to mimic the LED accents up front, and it'd be nice if Nissan could integrate the liftgate release into the panel above the license plate, like most crossovers. Still, the 2014 Rogue is a major improvement over its predecessor in terms of exterior styling. I'm on board.


Front-wheel-drive models will now net 26 mpg city and a best-in-class 33 mpg highway.
The only engine available for the 2014 Rogue is Nissan's 2.5-liter QR25DE inline four-cylinder engine, good for 170 horsepower at 6,000 rpm and 175 pound-feet of torque at 4,400 rpm. That power is sent through – what else? – Nissan's Xtronic continuously variable transmission, which, as we've said before, is perhaps the best CVT on the market. It's happy to hold revs higher in the range when power is needed, but drivers will be punished for their speedy tendencies with a horrible engine sound. That's what you get for not driving efficiently.

Speaking of which, since the powertrain is essentially the same as last year's Rogue, that CVT can be credited with helping the 2014 model post some welcome fuel economy gains. According to the EPA, front-wheel-drive models will now net 26 miles per gallon city and a best-in-class 33 mpg highway, up from 23/28 mpg. Our all-wheel-drive SL tester knocks those new numbers down to a plenty-respectable 25/32.



Nissan says the Rogue's four-cylinder is an "evolution" of its QR25DE powerplant, and while it's basically the same engine found in the Altima sedan, it's slightly less powerful in this application. I wish it weren't. At times, the Rogue feels sluggish, especially off the line and on hills. An additional 15 or 20 horsepower would be great, as would a small boost in torque – especially when fully laden. But for the vast majority of my drive in the Rogue, it wasn't a problem. The transmission is a smooth operator, and since it keeps the revs super low during cruising, that not-so-great engine noise isn't really a problem.


In terms of overall driving enjoyment, the Rogue falls somewhere in the middle-high range of the segment.
Driving the Rogue is – you guessed it – fine. The steering is nicely weighted, with decent on-center feel, albeit not quite as direct and precise as the steering in the Mazda CX-5, the segment's undisputed dynamic champ. In terms of overall driving enjoyment, the Rogue falls somewhere in the middle-high range of the segment – not as engaging as the aforementioned CX-5 or even a Subaru Forester, but it's a more entertaining steer than other competitors like the Toyota RAV4, Chevrolet Equinox and Honda CR-V.

Nissan has employed a whole host of technologies to keep things cool on the road, including Active Trace Control that will automatically lightly drag the inner or outer brakes to keep things stable in turns, Active Engine Braking to enhance slowing on grades and improve stopping feel, Hill Start Assist, and optional all-wheel drive with Hill Descent Control. There's also an Active Ride Control system, which Nissan says will apply the brakes and adjust engine torque to reduce body roll and vehicle vibration.



Honestly, it all works pretty well, and largely without the driver even knowing such electronics are at work. The suspension is nicely tuned to filter out pavement harshness, but you still feel planted on the road. Body roll isn't a big issue, and while the Rogue wasn't exactly begging to be hustled, it easily held its own on the lazy bends through the hills of Tennessee. Braking power is perfectly fine, with linear, solid pedal feel. It's simple and easy enough to maneuver in the city, and comfortable and smooth on the highway. The ride/handling balance is perfectly tuned for this sort of vehicle.


The company's "zero gravity" seats are used here, and they're great.
Being behind the wheel is a fine place to be, too. The uplevel leather interior of this SL tester was plenty comfortable, using a modern, clean design with parts pulled from the rest of the Nissan lineup. The company's "zero gravity" seats are used here, and they're great, especially in the nice leather finish of the SL model. Those front thrones are nice and supportive, too – after a full day of driving, fatigue wasn't an issue, and while driving, you won't find yourself sliding around or wiggling for better support or comfort.

The front cabin uses a mixture of semi-soft-touch materials on the dash and door tops, but there's still the usual hard plastic in places. Nothing bad, really, and the design of the center console with its not-quite-piano black finish looks premium. The aluminum and gray accents help, too, especially with the darker upholstery.




Once you've used AroundView to park, you'll never want to use anything else.
In the middle of that console, SL models are treated to a seven-inch touchscreen display, housing all of the usual navigation and infotainment functions, including the NissanConnect system that incorporates goodies like iHeartRadio, Facebook connectivity, SiriusXM Travel Link, online Google search and Pandora. Nissan's excellent AroundView Monitor is accessed here, too, and seriously, I cannot stress enough how awesome this system is. It's great to see the automaker incorporating it onto its full range of new products, from large vehicles like the Pathfinder down to the smallest Versa Note. Once you've used AroundView to park, you'll never want to use anything else.

There's plenty of functionality built into the new Rogue, too, including, for the first time, an optional third row of seats. This way-back seating isn't available on the top trim SL, though – Nissan says it already offers a $31,000 seven-passenger CUV, and it's called Pathfinder. Accessing the rearmost bench is easy, with second row seats that slide forward and back with the pull of a lever, but be warned: anyone of adult-size height will not want to ride back there. Ingress and egress to the third row is a contortionist activity, and even then, the seats aren't thick or supportive enough to be comfortable for most passengers. This is clearly a feature designed for small children only (they probably won't like it, either), and is likely something that will help the Rogue (err, X-Trail) sell in other markets where small family cars are big hits. Don't think third row, think jump seats. That said, the second row bench is perfectly comfortable, with 37.9 inches of available legroom (just slide the bench back) – a gain of 2.6 inches versus the outgoing model.



If you do opt for the third row, you won't be punished with reduced cargo capacity – the same 70 cubic feet of total storage space is available with either seating arrangement, thanks to fold flat second and third rows. Nissan even has a cool new Divide-'N-Hide cargo management system that uses a two-piece organizer that can be configured up to 18 different ways. The ability to stack a shelf in the cargo bay is a neat solution, since the vertical storage space of crossovers often goes unused with smaller objects.


The new Rogue and its X-Trail twin stand to do great things for the brand on a global scale.
Rogue pricing starts at $22,490 for the base S model with front-wheel drive, and goes as high as $29,420 for the SL AWD tested here. Add the optional Premium Package to the SL and you'll top out at $32,270, including $860 for destination. As we reported earlier, folks looking for an even cheaper solution will be able to buy the previous-generation model in 2014, renamed Rogue Select, with pricing starting below $20,000. The Select will have simplified content and model availability, and hey, these sales numbers can be lumped in with the rest of the updated Rogue line. Everybody wins.

The Rogue is a hugely important vehicle for Nissan here in the States – behind the Altima, it is the brand's second-best-selling vehicle. But even beyond that, the new Rogue and its X-Trail twin stand to do great things for the brand on a global scale. It doesn't completely rewrite the compact crossover formula, but it doesn't need to. Everything the Rogue does, it does well, and it's a far better offering than the model it replaces. There isn't anything to get particularly excited about here, but all in, the Rogue is a competent and relatively enjoyable offering in this incredibly competitive class. And that, folks, is just fine.


Vital Stats
Engine:

2.5L I4

Power:

170 HP / 175 LB-FT

Transmission:

CVT

Drivetrain:

All-Wheel Drive

Curb Weight:

3,605 LBS

Seating:

2+3

Cargo:

70.0 CU-FT (max)

MPG:

25 City / 32 HWY

Base Price:

$22,490

As-Tested Price:

$32,270
---
By Steven J. Ewing
---
See also: Nissan to unveil next-gen Qashqai on Nov. 7, 2014 Nissan Pathfinder Hybrid, 2014 Nissan Versa Note.