2014 Nissan Versa Note
Tue, 29 Oct 2013 12:03:00 EST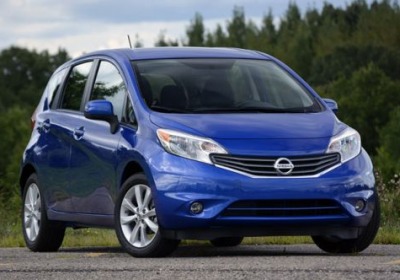 The original Austin Mini was not designed as a fun-to-drive, sporty small car. Its go-kart-like handling and general chuckability were an unintended byproduct of essential aspects of its design. Its four wheels were pushed to the absolute corners of the car to maximize interior space, and its front-wheel-drive layout and transversely mounted engine were in contrast to the rear-wheel-drive, longitudinal layouts of the day.

The result was a highly economical car with space for four and some luggage that just happened to be an absolute hoot to drive. Nissan has followed a similar path in the design of its Versa Note, which strives to provide the maximum amount of space and efficiency in a minimal footprint. On this front, it's successful.

First, we must salute Nissan for departing from the styling of the malformed kidney bean it calls the Versa Sedan. The Versa Note is a fashionably conservative design that neither offends nor excites. The front fascia is arguably its most conservative point, with high-mounted headlights and a sharper, cleaner version of Nissan's familial grille. The tail, with its funky I-don't-know-what-shape-I-am taillights contributes most of the car's flair. The large, spacious greenhouse, particularly up front, keeps passengers from feeling hemmed-in while letting in plenty of light.




We must salute Nissan for departing from the styling of the malformed kidney bean it calls the Versa Sedan.
Where the Versa Note distinguishes itself from the sedan with its exterior styling, the two are far too closely related in the cabin. Nissan tries to maintain the conservative-but-different styling of the exterior with its cabin design, but the results are less successful. It feels generic, and the materials simply aren't up to scratch in 2013. Hard plastics dominate, with a half-hearted attempt at soft-touch plastic on the dash. The doors feature a modicum of padding on the armrest, but the entire door card assembly flexed when we pushed them. In fact, the poor interior is easily one of the biggest knocks against the Versa Note. The reality of the subcompact market is that cabins are getting better (look no further than the Ford Fiesta Titanium), and Nissan is not competing. We'd rather have a shortage of room and a clean, modern cabin than 100 cubic feet of black plastic. There are others, though, who likely would disagree, as the Versa has traditionally sold well based on the value of its class-leading interior volume rather than its choice of materials.

We aren't exaggerating, the backseat of the Versa Note is enormous, with just over two inches more legroom than the midsize, rear-wheel-drive Infiniti M luxury sedan. It's comfortable back there, too, with a nicely cushioned bench that avoids the penalty-box feel of some competitors. In fact, the Versa Note is actually classified by the EPA as a compact, despite its footprint and price being more in line with subcompacts. The EPA's notoriously wonky classification system categorizes a car based on interior volume, which is why the Versa Note is in the same EPA class as a Bentley Continental GT. Trunk space is ample too, with a very generous 18.8 cubic feet available when the rear seats are up and 38.8 cubic feet with when the split-fold seats are down.



From behind the wheel, visibility in the Note is quite good. The tall, open greenhouse combined with the upright seating position offer great sightlines from behind the wheel. Being behind said wheel, though, isn't all that great of an experience. The Versa Note's seats are overly narrow, which gives it a rather sporting feel at first, only to have it grow tiresome as time with the car wears on. The padding on the seats is overly soft as well, meaning that while it's tight, there isn't a lot of support. It should be noted, though, that unlike the 2012 Versa Sedan we reviewed, our tester did include a center armrest for the driver. The urethane steering wheel is swiped from the Sentra, and much like that car, is merely okay to operate. It does feel rather cheap – Nissan might do well to swallow the extra expense and wrap the wheel in leather, as it'd really class up the car's cabin.


Versa Note's big selling point, besides interior volume, is the tech and infotainment feature-set that it offers.
The Versa Note's big selling point, besides its interior volume, is the tech and infotainment feature-set that it offers customers. A backup camera isn't an unusual feature nowadays, but Nissan's Around View monitor, which takes the feeds from four different cameras and projects a "360-degree" overhead image onto the infotainment screen, is positively aristocratic in the world of subcompacts. On top of that, NissanConnect, the Japanese giant's infotainment service, packs in Google and Google Send-to-Car map service along with weather and traffic information, hands-free text messaging and, of course, Pandora and Bluetooth integration. Add to that other class-above features like heated seats, push-button start, navigation and a right-sized (for the class) 5.8-inch touchscreen, and the Versa Note presents itself as an absolute steal for our car's $19,280 as-tested price.

Nissan has really gone all out with infotainment and what would normally be thought of as high-dollar features in the Versa Note's cabin. They aren't supported, however, by an overly sophisticated powertrain or mechanicals. A 1.6-liter four-cylinder engine squeaks out 109 horsepower at a lofty 6,000 rpms (just 500 revs south of redline) and 107 pound-feet of torque at 4,400 rpm. Fortunately, it's tasked with hauling around just 2,482 pounds in our top-spec Versa Note SV trim, which makes the low power less of a drawback than you might think.



If a non-sporting car is wearing a Nissan badge, it's only logical to assume there's a continuously variable transmission in the mix. Like other Nissans, the Versa Note's Xtronic CVT is actually quite tolerable – Nissan has made tremendous progress with its CVTs over the years, and it's really showing here. It lacks the rubber-band feel and tendency to pin the revs up high that typify less evolved CVTs. The pairing of the small engine and belt-driven transmission contributes to an impressive 31 miles per gallon in the city and 40 mpg on the highway.


The pairing of the small engine and belt-driven transmission contributes to an impressive 31 mpg in the city and 40 mpg on the highway.
Immediately apparent on the first turn of the wheel is that the Versa Note is not a sporting small hatch like a Mazda2 or Honda Fit Sport, the two best driver's cars in this class. The steering is electric, and not particularly communicative, either on center or mid-turn. It's rather low effort, and while we prefer a bit of heft in our steering, Nissan has done a good job making the tiller feel light without feeling overboosted - striking this balance really contributes to a small car's sense of mild tossability and agility.

Paired with a relaxed throttle response, the Versa Note is an easy car to drive smoothly. The accelerator is predictable and linear in its action, making dialing in just the right amount of thrust rather easy.

Remember what we were saying about Nissan splurging on the cabin tech and skimping on the mechanicals? The brakes are the biggest offender, with ten-inch front rotors and eight-inch rear drums. Don't let the antique rear hardware scare you, though, as our experience with the Versa Note's brakes proved to be largely positive. Thanks to electronic brake force distribution, working the stop pedal is a confidence-inspiring experience. The brakes are predictable and easy to modulate, which in today's world will always be preferable to some cutting edge tech that hasn't been perfected. They may not look like much, but these brakes are just fine.



With 109 horsepower, 107 pound-feet of torque and a weight-to-power ratio of 22.7 pounds per horsepower, are you really surprised that the Versa Note could, at best, be described as pokey? There's not a lot of grunt to work with here, but that's actually okay, as the 1.6-liter engine feels smooth, and so long as you don't punish it, it will still return adequate fuel economy. Mid-range torque is actually somewhat potent, and while we had to get aggressive with the gas pedal, we rarely found ourselves in a situation where we couldn't produce the required amount of power, provided we planned properly. As we mentioned above, Nissan has really figured this CVT thing out, building a transmission that is smooth, predictable and won't kick the revs up any higher than is necessary. It's not annoying, which might be the biggest compliment we can give a CVT.


Road noise from impacts is what we'd call average, and there is some tire roar ... but wind noise was nicely sorted.
While there's nothing overly wrong with the power on offer, the aural byproduct of that grunt is buzzy and rather unpleasant. It's not too pronounced, but when you really get into the accelerator, a thrashy noise rears its head and enters the cabin. Drive reasonably, though, and the noise is rarely disruptive to the driving experience. Road noise from impacts is what we'd call average, and there is some tire roar depending on the kind of road surface you're traveling down, but wind noise was nicely sorted.

With independent struts up front and a torsion-beam suspension in back paired with 16-inch alloys wrapped in low-rolling resistance, 195/55R16 Bridgestone Ecopia EP422 tires, the Versa Note is a dullard in the corners compared to its hotter competitors. There's nothing particularly offensive about its handling - body roll is present, but doesn't make for a disruptive or unstable experience. It's a similar story with dive under braking. The overall sense of feedback through the seat is there, but requires a bit of concentration to really notice. The fact that this car isn't a corner carver isn't shocking, but neither is the fact that the Versa Note's ride is quite nice for its class. There's a fair amount of vertical motion, but it's not jarring or crashy like some competitors (we're looking at you, Toyota Yaris). Much like the oversized cabin, the ride of the Versa Note feels more suited to a larger vehicle.




While netting the 40 mpg highway rating is probably doable, we didn't find getting there a particularly easy task.
As it stands, our fuel economy in the Versa Note, around 32 mpg combined, was near the bottom of its EPA economy ratings. While netting the 40 mpg highway rating is probably doable, we didn't find getting there a particularly easy task. We'll happily split the blame for that between your author's somewhat aggressive throttle use and the car's own shortcomings. The Versa Note's powertrain is just fine and feels ideally suited to the car's size, but we'd love to see Nissan really push and do more with its powertrain technology. While adding features like stop-start and active aerodynamics to the Versa Note will add to its price, being able to brag about best-in-class fuel economy (a title held among gas-powered cars by Ford's three-cylinder, turbocharged Fiesta and its 45-mpg rating) is worth its weight in gold.

While our Versa Note was loaded, it's possible to order the basic car for under $14,000, which is an absolute bargain based just on the cabin space it offers. That car is called the Versa Note 1.6 S. The next trim, the 1.6 S Plus, bumps the price to $15,240, while our top-spec 1.6 SV starts at $15,990. To get all the goodies like Around View, navigation and heated seats, though, you'll need both the SL Package ($1,700) and the SL Tech Package ($800). Those two packs bump the price to $18,490, although there are no other factory-installed options after that. Add on our tester's $790 destination-and-handling charge, and you're looking at an as-tested price for our test car of $19,280.




If you value the absolute maximum amount of space for the very least amount of money, the Nissan will serve you very well.
Now, by a fun coincidence, this review was preceded by Seyth Miersma's piece on the Ford Fiesta Titanium yesterday. Directionally, Note shoppers might want to have a look at the Fiesta, as it avoids a number of complaints we have with the Versa. But before we get to the bad, it's important to note (yuck yuck) that the Nissan is hardly defenseless in this fight. It's lighter and more fuel efficient than the Fiesta, which only returns 27-city mpg and 38-highway mpg. They start around the same price, $14,000, but even with the Titanium trim coming in at $18,800 (Miersma's tester was over $20,000 with navigation), the Versa's load of tech is the better bargain. It makes up for this with a modicum more power and torque (120 hp and 112 lb-ft), a far more cosseting ride and a cabin that blows the Versa Note's hard plastic interior out of the water. If it's the latter two things you value, the Fiesta might be your cup of tea.

Coming back to the original Austin Mini, the Versa Note follows the Mini's brief, but takes its formula to extremes, and conjures up a decidedly different character that focuses on space, technology and optional goodies. The fact of the matter is that the Versa Note, like the Mini, is a car that will appeal to a lot of people. It'll just do it with Around View, Pandora integration and Google rather than driving chops.

Indeed, the ultimate question you'll need to ask yourself about the Versa Note is what you need and want in a subcompact car. If you value the absolute maximum amount of space for the very least amount of money, the Nissan will serve you very well. It's the same story if a car's infotainment systems are high on your priorities list - Nissan has done an excellent job of fitting the Versa Note with class-exclusive features that will make a driver's time behind the wheel easier and less stressful. But if you want to have fun while driving each day or value a high-quality cabin, you'll be better served by a Mazda2/Honda Fit Sport or a Ford Fiesta, respectively. Still, the value-for-money proposition that is the Versa Note makes for a solid competitor in an increasingly tough class of cars.


Vital Stats
Engine:

1.6L I4

Power:

109 HP / 107 LB-FT

Transmission:

CVT

0-60 Time:

9.5 sec (est)

Drivetrain:

Front-Wheel Drive

Curb Weight:

2,482 LBS

Seating:

2+3

Cargo:

18.8 CU-FT

MPG:

31 City / 40 HWY

Base Price:

$13,990

As-Tested Price:

$19,280
---
By Brandon Turkus
---
See also: Nissan exec Andy Palmer derides Toyobaru coupes as 'midlife crisis' cars, 2014 Nissan Pathfinder Hybrid priced from $35,110*, Nissan ZEOD RC stretches its legs for the first time.