eBay Find of the Day: Jeep Comanche Zombie Response Unit
Sat, 02 Feb 2013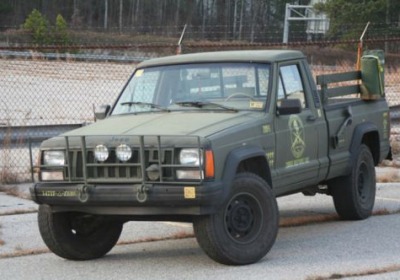 We've seen some pretty fantastic apocalypse vehicles in our day. We've even owned one or two, but this particular Jeep Comanche tugs at our heart strings in all the right ways. Let's start with the basics: there's a stout 4.0-liter engine underhood hooked to a five-speed manual transmission, and while we wish this truck was four-wheel drive, the two-inch lift and oversize tires should help you overcome obstacles with enough momentum.


Details like handy shovels, Jerry cans and a brush guard inspired by the hardware on a CUCV help lend the truck a no-nonsense appeal, and the functional CB whip antenna means you can ask for backup when the undead hordes come your way. If you like what you see as much as we do, you can head over to eBay Motors to place a bid. The auction has inched up to $4,000 with just two days left on the clock.
---
By Zach Bowman
---
See also: Jeep team takes a field trip to Wagonmaster; researching next Grand Wagoneer?, Chrysler earns $1.7B in 2012, revises product plans for US, 2014 Jeep Grand Cherokee pricing leaks out.