Watch this time-lapse build of the Chevy SS for NASCAR
Fri, 08 Feb 2013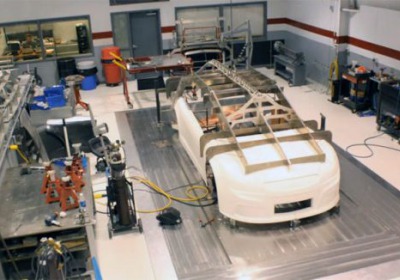 There's only about a week left until we get our first look at the production version of the 2014 Chevrolet SS sedan, but Chevrolet NASCAR teams have been looking at the race version of the car all winter. Autoweek has posted a really neat time-lapse video showing just a portion of what it takes to build one of NASCAR's new Gen6 stock cars.

Though the video is quite brief, it does show almost the entire build process starting with just the car's nose, and it gives us a good look at how integral the template is to the final product. As a bonus, Hendrick Motorsports also provided some videos showing two of its teams performing pit stop tests over the winter. The second video shows some of the more detailed aspects of the racecar's rear end, including the stock-looking trunk cutout and a newly mandated rear bumper extension that will be used on super speedways like Daytona and Talladega.

To see what Team Chevy has been up to all off-season, check out all three videos posted after the jump.







---
By Jeffrey N. Ross
---
See also: "Turbo" Chevrolet Camaro is a 700-HP fantasy car come to life [w/video], Chevy confirms Corvette Stingray Convertible for Geneva, 2014 Chevrolet Cruze TD fires up its new diesel motor.