Refreshed 2014 Camaro confirmed for New York debut
Thu, 07 Mar 2013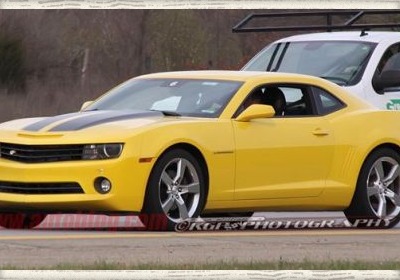 We've already seen leaked specs and potential spy shots, but the refreshed 2014 Chevrolet Camaro will make its official debut at the New York Auto Show in a few weeks.

Besides a tweaked exterior and the possibility of a high-output LS7 under the hood, we really don't know much else about the 2014 Camaro, but here's hoping for an improved interior, too.

In addition to the refreshed Camaro, Chevrolet will also be showing off the recently introduced Chevrolet SS, making its debut on the auto show circuit, and we'll also get our first look at the C7 Corvette coupe and convertible side-by-side.

General Motors will round out its major introductions with the redesigned 2014 Cadillac CTS and the updated 2014 Buick LaCrosse and 2014 Regal. Read all about it in the press release below.

Chevrolet to Showcase Performance at NYIAS

GM Launching Five Global Debuts, One North American at 2013 Show

Corvette Convertible Makes its North American Debut in NY


Chevrolet will showcase a new lineup of 2014 performance cars, including the all-new Corvette Stingray coupe and convertible, all-new SS performance sedan and refreshed Camaro.

"Chevrolet customers have validated our performance credentials, and we're going to give them even more reasons to be enthused," said Mark Reuss, president, GM North America.

The 2014 Camaro advances the design and performance attributes that have made it the most popular sports car under $50,000 for three consecutive years, while Chevrolet's new SS is the brand's first V-8-powered, rear-drive performance sedan since 1996. It's based on a race-proven global platform and powered by a 6.2L V-8 rated at an estimated 415 hp.

The all-new Corvette Stingray coupe and convertible roll into the Big Apple 60 years after the Corvette made its public debut in New York City. The seventh generation of the iconic sports car will be the most powerful standard Corvette ever, with an estimated 450 hp.

Along with the new Chevys, GM is launching two new Buicks and a Cadillac at the upcoming New York International Auto Show for a total of five global debuts and one North American intro.

Visitors of this year's Show will be treated to a peek at more than 50 other newly revealed cars, trucks and concepts that the world's top automakers have to offer from America's first and highest-attended auto show.
---
By Jeffrey N. Ross
---
See also: Chevrolet Captiva looks mildly refreshed and ready for family duty, Submit your questions for Autoblog Podcast #323 LIVE!, 2014 Chevrolet Corvette Stingray Convertible is a Swiss hit.