Porsche 911 GT2 caught testing, is super bad
Thu, 27 Jun 2013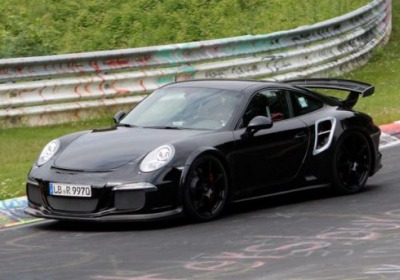 Look what spy photographers have spotted sprinting around the Nürburgring. Our shooters nabbed a few photos of the all-new Porsche 911 GT2 in its native habitat without any of the bulky camouflage or cladding we're used to seeing. The result is our first truly clear view at the upcoming successor to the GT2 throne. From the looks of it, the new model will boast wider fender arches front and rear, and hefty air intakes set into the machine's hips should help feed a beastly 3.8-liter flat six-cylinder engine. Early guesses put the engine output somewhere around 560 horsepower.


Mated to a seven-speed dual-clutch transmission, the engine should propel this rear-engined heathen to 62 miles per hour in under three seconds. Top speed? Try somewhere around 200 mph. If that's true, the next-generation 911 GT2 will be the fastest 911 in Porsche history.
---
By Zach Bowman
---
See also: 24 Hours of Le Mans an on-and-off love affair, Overnight action from the 24 Hours of Le Mans, The pre-race and first in-race report from Le Mans.